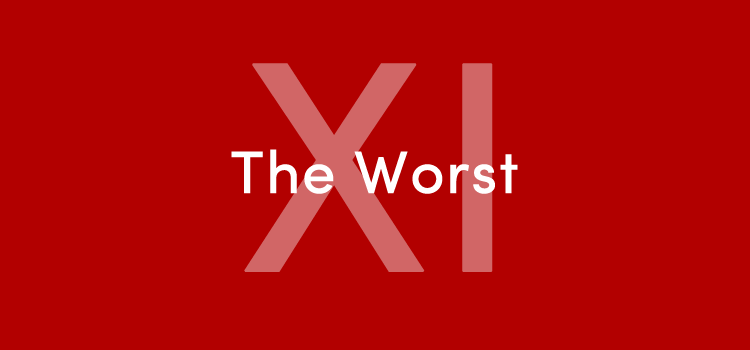 Another week and another player reveal for the Friends of Liverpool Worst XI as voted for by you, our loyal and lovely readers. We're into the final three reveals now and that means we've reach the front two. We, of course, know our goalkeeper, full backs, centre backs, wide midfielders and central midfielders so who are going to be the starved of service goal-shy front men of this shambles?
Well, I won't reveal the full results until next week but I can reveal the second place in the voting went to none other than… Iago Aspas.
So, how did poor Iago end up here then?
One Club Man
Born in the Disney film Moana (it's a town in Spain actually), Aspas would be snapped up by his local side Celta Vigo and he'd make his way through the ranks and into the first team.
As Celta struggled and stayed in the second tier, Aspas would see more and more opportunities come his way. However, his scoring record was hardly exceptional with nine goals in two seasons of regular football before the 2011/12 season. There he would score 23 times as Celta got promoted back into La Liga.
He would take to La Liga well, scoring 12 league goals to keep Celta in the league. He also showed a bit of an aggressive side too during the Galician derby with Deportivo when he headbutted Carlos Marchena and sent off in the process.
The Struggles
With Liverpool missing a suspended Luis Suarez for the start of the 2013/14 season and not really wanting to have to rely on Fabio Borini, Brendan Rodgers targeted Aspas as a new attacking option. He'd get his man that summer for £7 million and handed Aspas the number 9 shirt which was synonymous with goals (and Diouf and Carroll).
Early pre-season showings indicated we had a good player on our hands with Aspas and he started the first four Premier League games. Bless him, he tried but as with many players in this side, he just didn't seem cut out for Premier League football. It became clear that in a side with Sterling, Suarez, Sturridge and more, Aspas was nowhere near a starter and his patchy playing time and poor form hardly helped his cause.
He wouldn't start a game until New Year and it would be early January before he scored a goal for the club. Even then, it was against Oldham at Anfield in the FA Cup so hardly something to celebrate overall. The problem for Aspas was that he never seemed quite quick enough to overcome his lack of physicality and it showed badly.
By the end of the season, he was almost completely out of the picture but for a brief but memorable cameo at the end of that game against Chelsea at Anfield. With the Reds staring down a damning defeat, we won an injury time corner at the Kop. Aspas hared over to take it, set himself, saw someone and passed it to the edge of the area. The issue was there was nobody within ten yards of his pass other than Chelsea's Willian. Cue utter anger from Liverpool fans around the world and tears of laughter from everyone ever since.
He would finish the season with just 15 appearances and that solitary Oldham goal to his name before Rodgers shipped him to Sevilla on loan, then permanently, who flipped him back to Celta ASAP. The kicker is now that he's actually quite good in La Liga and a full Spanish international who scored on debut at Wembley against England. The irony.
Here's that Aspas corner for anyone whose been living under a rock
And here's what he's been up to recently. How conveniently good he's become…
https://www.youtube.com/watch?v=3w3cZ4POiBc
Come back next week for the final player reveal where we will look at a German striker that frequents these kinds of polls and posts all over the internet.