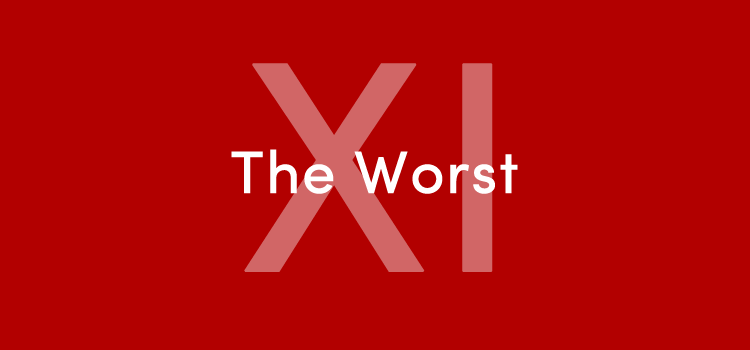 Welcome back to the Worst XI where this week we reveal just who made it into the team at right back. It was a close run thing at right back with two men – Philipp Degen and Josemi – tied for second place in the overall vote. Now, I won't spoil next week's inclusion at left back (although you can probably guess just who it is) but I took to Twitter to decide the dead heat and these were the results:
Philipp Degen           53%
Josemi                             47%
And there we go. Philipp Degen makes it into the side as our right back. Just why was he voted in though? Let's find out why.
Swiss Star
Degen's early career was very successful in the Swiss domestic game. Having made his professional debut in 2001, Degen would go on to become a regular in the FC Basel first team winning three Swiss league titles in four seasons. His form earned him a move to German side Borussia Dortmund and international recognition in 2005.
Degen once again a consistent starter at right back for Dortmund for two seasons before injuries struck and struck hard. He played just ten league games in 2007/08 but that was enough for Rafa Benitez to take one look at him and think, "I've got to have him".
Disaster
Degen arrive on Merseyside in 2008 looking forward to adding something to Liverpool's already formidable looking side. He would have to wait for his competitive debut in the League Cup Third Round against Crewe where he set the benchmark for his Liverpool career by breaking two ribs and puncturing his lung colliding with the brick wall that was Sami Hyypia.
A minor setback. Nothing to worry about. He came back in a couple of months in another League Cup tie at Spurs. Where he promptly broke his metatarsal. Wonderful. Degen later said that he questioned what he'd done in a past life to receive this unfortunate luck. Well, he clearly was a mass murderer or something because a couple of months later, he broke another metatarsal in a reserve game. And with that Degen's 2008/09 season was over after two League Cup appearances.
Comeback
September 2009. That's when Philipp Degen made his Premier League debut for Liverpool, about 14 months after joining the club. It was only as a substitute but it was a start. Another couple of League Cup games followed before he finally started a league game for the club on Halloween 2009. It would be a frightening experience for all involved.
Liverpool were run ragged at Craven Cottage by Fulham and poor Phil couldn't even see out the whole game after he was rather foolishly sent off. Degen would only play five more times in the Premier League to absolutely no avail meaning he would clock up a whopping 12 appearances in two seasons.
Goodbye
Roy Hodgson made few smart calls in charge of Liverpool (as evidenced by this series) but one of them was to say adios to Philipp Degen. He was shifted out on loan to Stuttgart in 2010 where Darren Anderton's Swiss brother managed just five appearances. By the time he returned in 2011, Hodgson was gone but Kenny Dalglish didn't fancy him and he was quietly released at the end of August.
Degen would return to Basel to train before rejoining the club and playing fairly regularly for a man who had spent most of the previous five years or so becoming pals with physios. He would win the league title in each of his five seasons at the club before calling time on his career in 2016.
So maybe Philipp Degen could have been a quality player for Liverpool. Maybe the injuries ruined his career in England before it even started. One thing is for certain, he never ever impressed in a Liverpool shirt. To lighten the mood though, I'll end with the weirdest YouTube video I've ever seen which is about Phil.
Stay tuned for next week's I'll reveal the left back for this horrendous XI and it's probably one you'll see coming from a mile off.