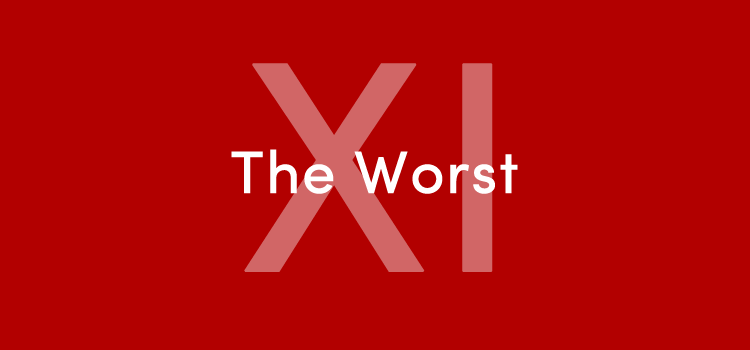 Welcome back to another edition of The Worst XI, the series where you have voted on the worst eleven players to grace the Anfield pitch. If you've missed our announcements so far then relive them here: Goalkeeper; Right Back; Centre Back 1; Centre Back 2; Left Back; Right Wing; Centre Midfield 1 and Left Wing.
This week, we complete our midfield with the second central midfielder. That means that we can reveal the results of the poll right here and right now:
1. Istvan Kozma                70%
2. Christian Poulsen       12%
3. Jean-Michel Ferri               9%
4. Salif Diao                              5%
5= Nuri Sahin                          2%
5= Alberto Aquilani               2%
7. Joe Cole                                0%
So, by a colossal landslide, that makes Istvan Kozma the latest addition to this dreadful team. So just what made the first ever Hungarian to play for Liverpool so awful? Let's take a look.
Pre-Liverpool
Having made his name with the reputable Ujpest in his native Hungary during the 1980s as a ball playing midfielder, Kozma made the move abroad to join French side Bordeaux. Bordeaux would finish second in Ligue 1 in 1988/89 but Kozma would not last long as he made a shock move.
Newly promoted Scottish side Dunfermline were ambitious and paid Bordeaux £550,000 to sign Kozma in the summer of 1989. He'd go on to be a roaring success in Scotland, embracing his move to Scotland fully and impressing on the pitch with his ability on the ball. That he's still classed as a legend at the club and is a member of their Hall of Fame speaks volumes about his contributions to the club.
Liverpool
In February 1992, Liverpool paid £300,000 to take Kozma from Dunfermline and to Anfield. Kozma recalled that he was unsure about the move because he loved Dunfermline so much but he wanted to experience what life at a big club was like so made the move. It was the wrong call.
What makes Kozma's signing even more galling is that around the same time, Leeds were signing some guy called Eric Cantona from France and Souness would later reveal that Michel Platini offered him the chance to sign Cantona but he didn't because he didn't want any more problems. That worked out well for him.
What became very apparent is that Kozma may have been great in the Scottish top flight but he was hopelessly lost in the English one. He would play just six league games for Liverpool showcasing little and offering even less. He was lightweight and his technical ability was lost amid the frenetic pace of the English game. His final appearance for Liverpool would come in September 1992, just seven months after signing and he would be gone in 1993 when he wasn't granted a work permit because he hadn't played enough.
If you mention Kozma's name to a Liverpool fan though they will say "he was crap but…" and that but is followed by the story of how he came on and changed a League Cup tie at Anfield and only made it a slight embarrassment against Chesterfield. 3-0 down at half time thanks to David James level gaffes, Kozma was sent on and looked like a world beater. He set up two as Liverpool eventually got back to a 4-4 draw in one of the many lows of Souness' reign.
Kozma's legacy at Anfield is one of disaster and disappointment and he was given the rather dubious 'honour' of being voted the fourth worst player to ever play in the Premier League in a Times Online poll. He was by far and away the worst central midfielder to ever grace a Liverpool shirt.
Stay tuned next week as we head into the final three reveals with our first striker who is a Spanish international that has scored bags of goals in his homeland but who couldn't find his mark in the Premier League.