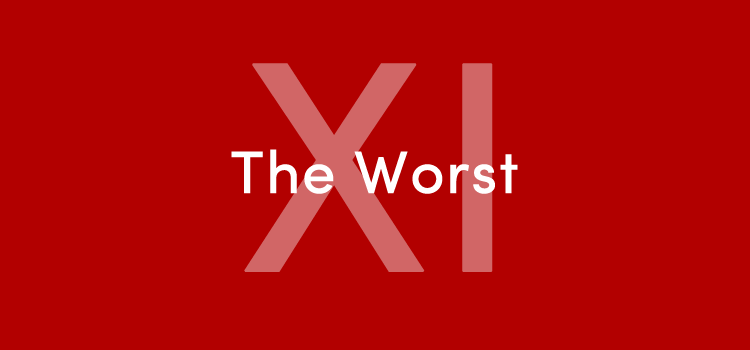 Welcome back to another Worst XI and we're revealing Tiago Ilori's centre back partner this time out. Let's not take too much time here so here's the result…
1= Tiago Ilori                      33%
1= Torben Piechnik          33%
3. Frode Kippe                         22%
4. Mauricio Pellegrino           12%
We finally have a Souness signing! Yes, the giant Danish defender becomes Ilori's partner so just why is he part of this XI? Let's find out…
Shocking The World
A solid defender in the Danish league, Piechnik started his career at Københavns Boldklub before spells with Ikast fS before moving to B 1903. He was one of a number of players who was taken on by FC København when KB and B 1903 merged in 1992.
Piechnik's domestic career was hardly inspiring but it was his international exploits that saw him shoot into the public conscience. Having made his international debut in 1991, Piechnik was selected for Denmark's rather hastily thrown together squad for the European Championships in 1992.
He wasn't a regular for the Danes by any measure (he only won 15 caps for his country) but he was thrust into the spotlight when Henrik Andersen was injured in the semi-final. He was immense in the final – as were the entire Danish team – as they shockingly defeated Germany to claim the title.
To Merseyside
Piechnik's performance in the final was enough for Graeme Souness to throw £500,000 at FC Kobenhavn for the giant defender after the tournament. However, to facilitate the signing, sales had to be made and Souness had no qualms in shipping off one of his earlier (also failed) purchases in Dean Saunders.
In came the not-so-great Dane and, after his debut, fans were in agreement that Souness would have been better served spending half a million pounds on an actual Great Dane to play in defence. At least that way he might get near a ball. Piechnik's harsh lesson was dealt at Villa Park (a tough place to go in the early 90s) where Dean Saunders ran rings around him all day and scored a brace in a 4-2 Villa win. See the video below for my favourite piece of defending ever from Torben where he tries to foul Saunders and fails to even do that (around 3:15 mark).
https://www.youtube.com/watch?v=6-ce9zMmgdw
Things never got any better from there. Over another 23 agonising appearances, Piechnik stumbled, fumbled and bumbled his way through the Premier League. It also says a lot that 23 of his 24 appearances came in the 1992/93 season where Souness persisted on trying to make him work in the team. That Liverpool only won eight times with him in the side says all it needs to really.
Piechnik's final appearance came during the 1993/94 season against Newcastle. This was right before the heights of the Keegan era when Andy Cole was scoring at a ludicrous rate. It was a recipe for disaster as Souness' reign was heading toward its embarrassing end. Cole would plunder a first half hat trick against a non-existent defence and Piechnik wouldn't see past half time.
Once Souness was gone, Piechnik followed soon after. He returned to Denmark with Aarhus and won the Danish Cup in 1996 before retiring in 1999. His biggest issue was that he was a defender who needed to defend deep, hiding his lack of pace and mobility. Unfortunately, Souness never saw that and he tried to get him to squeeze up the pitch and play further forward. It was a recipe for guaranteed failure and, sadly, it failed.
Next week, we'll move into the midfield with our right winger who may just be the most hated ex-Liverpool player of all time.