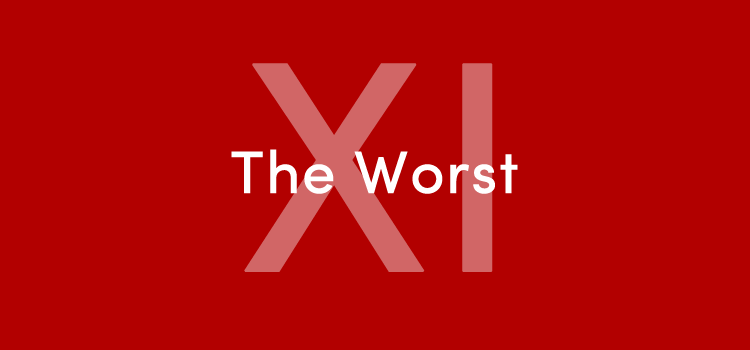 Now we have all of the nominations out of the way, it is time to finally reveal each member of the Friends of Liverpool Reader's Choice Worst XI of All Time Ever in History. Still need to work on that title.
We start as we did with the nominations – in goal. You may remember that our nominees were Charles Itandje, David James, Adam Bogdan and Pegguy Arphexad. I can reveal that these were the results of the voting:
1. Adam Bogdan (52%)
2. Charles Itandje (32%)
3. Pegguy Arphexad (12%)
4. David James (4%)
Yes, the Hungarian horror show that is Adam Bogdan won out in the voting. So, let's see what makes him just so awful.
The Warning Signs
Having joined Bolton as a youngster from Hungarian side Vasas in 2007, Bogdan would have to wait a whole three years before he even got a sniff of first team action. He did have a one game loan spell at Crewe where he cost them a point but we'll gloss over that.
Bogdan would concede five on his Premier League debut at Chelsea, while his next appearance would see him concede a goal from Tim Howard 102 yards away at Goodison Park. He would recover from those embarrassments to overtake Jussi Jaaskelainen in the Bolton goal and in 2012, he was voted their Player of the Season. In the year they got relegated as well.
Bogdan would remain Bolton's first choice without much fanfare throughout the club's first two seasons in the Championship before he was replaced in 2014/15 by Andy Lonergan, which is hardly a welcome omen for any potential suitors.
The Big Move Turns Sour
That mattered little to Brendan Rodgers though and his guaranteed success with transfers and he snapped up the out of contract Bogdan without hesitation to provide competition to the embattled Simon Mignolet.
The continued sketchy form of Mignolet led to calls for Bogdan to be given a chance by Rodgers and he was given his opportunity in the League Cup against Carlisle. What should have been a comfortable home win for the Reds turned into a nervy penalty shootout where Bogdan was the hero with a couple of penalty saves to send the much-changed Liverpool side into the next round.
Bogdan would play two more League Cup games as Liverpool were in the midst of a managerial upheaval, with the sacking of Rodgers and the arrival of the exciting German Jurgen Klopp. It was Klopp that would eventually grow tired of Mignolet's erratic form and give Bogdan his chance in the Premier League.
This is where the story of Adam Bogdan goes south. A tough away game at newly promoted Watford was going to be a test especially in the infancy of Klopp's reign and it proved to be more of a test than anyone realised.
Three minutes into the game and a corner was put right under the crossbar. In all honesty, Bogdan was under no pressure whatsoever and it should have been a fairly comfortable take for the keeper. He instead dropped the ball, failed to then hold on to the dropped ball and allowed Nathan Ake to go on and score.
What followed that, was a performance of the most nervous kind from Bogdan with every set piece watched through pried fingers by Liverpool fans. There was one moment where Bogdan attempted to punch clear a simple through ball because he was so scared of the yellow shirts that were near him.
That afternoon at Vicarage Road was a nightmare, but it was a night at Exeter that signalled the end of Bogdan's Liverpool career. Lee Holmes of Exeter floated in a corner right on top of the nervous Bogdan and the keeper proceeded to flap at the ball and concede straight from the corner. It took a bit of resilience from the young Reds side to get anything from that night.
Where's He At?
Bogdan would disappear from the first team completely after the Exeter game with his last Liverpool appearance coming in the final Premier League game of the 2015/16 season away at West Brom, where he did nothing horribly wrong but there was always a sense of dread when Pulis' side got a set piece.
Adam Bogdan is clearly persona non-grata at Anfield now and he spent the first half of the season on loan at Wigan where he did reasonably well before injuring his ACL.
He's currently at a crossroads in his career but for his six appearances and general horror he caused Liverpool fans, Adam Bogdan is the number one in our Worst XI.