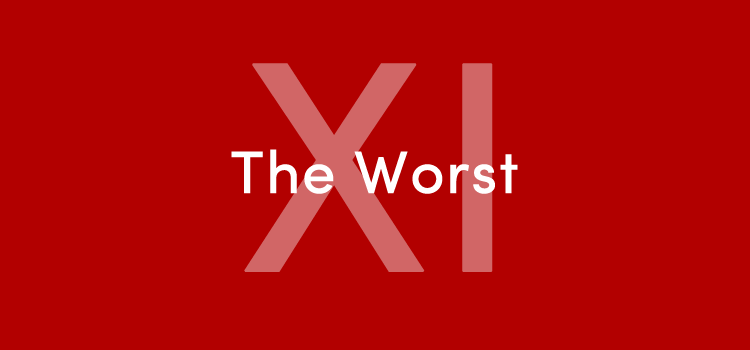 Welcome back to another edition of the Worst XI, the series where we try to make the worst XI possible from the dark parts of Liverpool's past. So far, we have Adam Bogdan in goal; Philipp Degen at right back; Torben Piechnik and Tiago Ilori at the heart of the defence; Paul Konchesky at left back and professional idiot El Hadji Diouf on the right wing.
This time it's our left winger and winner of the overall winger vote. So who gets that dubious honour then?
1. Milan Jovanovic    56%
2. El Hadji Diouf        22%
3= Sebastian Leto           11%
3= Jimmy Carter            11%
5= Antonio Nunez           0%
5= Bernard Diomede     0%
5= Mark Kennedy           0%
5= Mark Gonzalez          0%
5= Bruno Cheyrou          0%
As you can see then, it's a runaway victory for Milan Jovanovic. Yes, Rafa's parting "gift" to the club in 2010 is our left winger in this XI but just how did we get to this point? Let's take a look and see.
Pre-Liverpool
Jovanovic would make his breakthrough in professional football with Vojvodina in the city of Novi Sad at 18 years old. He appeared a decent amount over four seasons and did enough to persuade Shakhtar Donetsk to sign him in 2003.
His time at Shakhtar was a colossal disappointment as he played just nine times (scoring twice). He did manage to pick up a Ukrainian Cup winner's medal for his 'efforts'. A move to Lokomotiv Moscow in Russia was supposed to reignite his career in 2004 but, despite a league title that year, he played just four games for the club in total.
He would eventually leave Moscow for Belgium and Standard Liege in 2006 and it was the start of a fruitful marriage for club and player. Jovanovic would score in double figures in each of his four seasons in Liege, tearing the Pro League apart week after week. His debut season saw him score 24 times in all competitions and his four year spell ended with a not to be sniffed at return of 69 goals in 153 appearances for the Serb. He'd also collect two Pro League titles and two Belgian Supercups as well.
The 'Gift'
February 2010 saw Rafa Benitez agree a deal with Jovanovic to sign on a free at the end of the season with the club having beaten off reported interest from Valencia, Juventus and AC Milan. In fact, Jovanovic actually could have left Standard in the summer of 2009. A deal had been reached with, of all teams, Real Madrid but the player himself turned it down because he didn't think he'd play that much. Incredible.
Still, this was seen as a bit of a coup that Rafa was able to entice this rampaging bull down the wing that scored for fun. Things got more exciting when he scored the winner as Serbia beat Germany in the 2010 World Cup. He was going to be good.
However, the man who signed Milan had already left. Rafa was gone and in his place came Roy Hodgson. Jovanovic started the first five league games for Liverpool but never truly convinced. Rafa's 'gift' was starting to look like a turd in a box. The only thing of note he did was this incredible header against Arsenal.
Things didn't get much better from there. As the Roy Hodgson era descended from farce to embarrassment, Jovanovic featured less and less. He scored his first Liverpool goal in the League Cup tie against Northampton but played little other than in the Europa League. The rampaging winger was not what we got. As LFCHistory put it, Jovanovic never really stormed up the field "looking more like a Fiat Multipla than a racecar".
Jovanovic would score his second and final goal in a December Europa League tie at Steaua Bucharest to earn a point but he still spent more time on the bench than stinking up the Anfield pitch. He got a couple more opportunities under Kenny Dalglish when he came in but the final of his 18 appearances came in February and his fate was pretty much sealed by that point.
Liverpool attempted to pay him off in the summer of 2011 but the reported £100,000 a week he was pocketing made that kind of difficult. They eventually did offload the Multipla to a delighted Anderlecht, though quite why they were so happy about it still causes bemusement on Merseyside to this day. He'd spend two years back in Belgium, winning another two league titles before his release in 2013. Since then, he's been without a club and, at 35, it's safe to assume he's probably done with playing now.
A one-dimensional, rather overhyped and ludicrously overpaid player, Jovanovic encapsulated everything wrong with Liverpool in 2010/11. We were promised a player of exceptional talent and instead we got a one-trick pony whose trick wasn't particularly good. Perhaps his only saving grace is that somebody who writes Neighbours was clearly a Standard Liege fan when they wrote in a line saying he was "one of the greatest soccer players in the world". Look it up on Google, it's real!
That's it for this one, join us next week for our first central midfielder: a Roy Hodgson special all the way from Denmark.