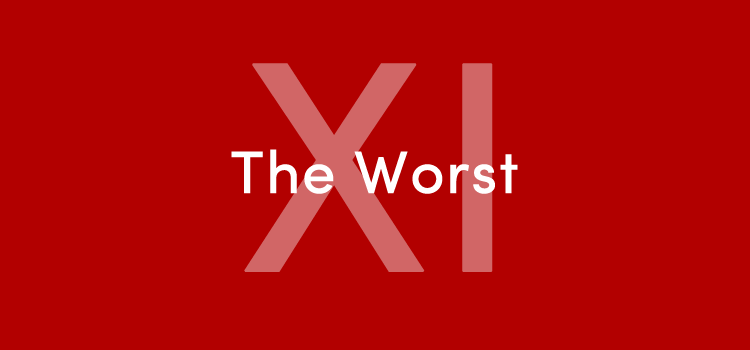 Welcome back to the Worst XI where we've found ourselves coming to the right winger of this side. Now this is a bit of a sticky situation for me because I usually give it some spiel about results but, this time, there's nothing really to hype up and I'll do full results for the wingers next week.
It's time we spoke about El Hadji Diouf.
In 2001/02, Liverpool sold 'God' to Leeds midway through the season, replaced him with Nicolas Anelka and finished second in the league. They weren't far off though but needed that extra push to get over the hump and win the title. Gerard Houllier, in his infinite wisdom, decided that Anelka was not that man despite his impressive loan but that Lens' Senegalese international El Hadji Diouf was. A £10 million deal was agreed before the World Cup in Japan and Korea and everyone was very excited.
They got even more excited as Senegal shocked the world and reached the quarter finals with Diouf being the star turn. Liverpool then were expected to go on to new heights with Diouf. Things started promisingly enough too with a brace against Southampton early doors but those two goals proved to be a third of the goals he'd score for Liverpool.
The problem was that, for all the hype, Diouf's attitude and application were questionable at best. After his goals against the Saints he wouldn't find the net again for a whole three months and he'd end the 2002/03 season with just six to his name. He had a penchant for going missing in games and offering little if any skill or creativity on the ball. In fairness, Liverpool were hardly playing brilliantly but we did have Heskey and Diouf as the main wingers so what can you expect?
Diouf did finish the season with a Worthington Cup medal to his name and after some very brief moments of quality, you'd think he would get better, right? Right? Of course not. The Senegalese number nine tried even less the following season as Houllier lost his job and Diouf became the only number nine in Liverpool history to finish a season without a single goal to his name. He was abject.
In spite of this, Houllier and Phil Thompson would praise him to the media to high heaven, raving about his ability. Thompson even called him a "pristine boy" in the lead-up to a UEFA Cup tie against Celtic in 2003. Then he went and spat on a Celtic fan. And that's all you ever hear about when Diouf's name is mentioned at Anfield. And rightly so. It was filthy but a perfect representation of Diouf's Liverpool career.
Thankfully, Rafa Benitez arrived in 2004 and his first order of business was to get rid of Diouf. It was hardly a sad goodbye with Steven Gerrard saying in his autobiography that his "attitude was all wrong" and Stevie felt "he wasn't arsed about putting his body in the line to get Liverpool back at the top". Jamie Carragher was even stronger in his criticism prompting Diouf to spend the last few years criticising the two of them to stay in the headlines.
Diouf's career would be littered with controversy post-Liverpool despite some good performances at Bolton. He'd underwhelm at Sunderland, Blackburn, Rangers, Doncaster and Leeds before seeing out his career with Sabah FA in Malaysia. Diouf has now retired from football but is now an adviser to the President of Senegal.
To lighten the mood, here's a video of Diouf and Emile Heskey linking up for a goal showing just how exciting Houllier's side was around 2003/2004.
Next week – the greatest footballer in the world… according to Neighbours.