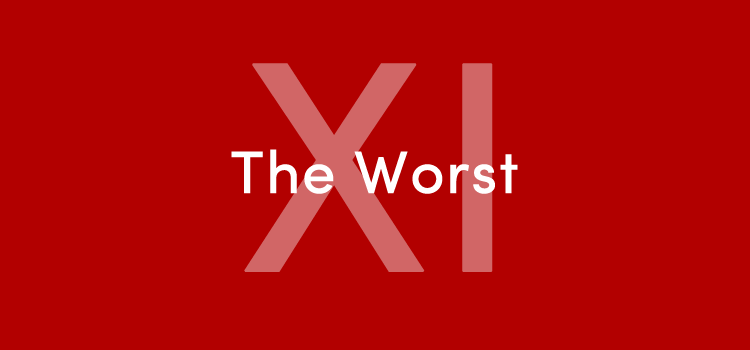 It's that time of the week once again where we reveal another player that takes his place within the Worst XI to have ever graced a Liverpool shirt. This week we're on to our left back and it is probably the most obvious choice out of every position in this side. Still, out of fairness, we did offer up a number of selections for you to vote on and this is how the votes fell.
1. Paul Konchesky           33%
2= Josemi                                25%
2= Philipp Degen                   25%
4= Abel Xavier                         8%
4= Jan Kromkamp                  8%
6= Andrea Dossena                 0%
6= Christian Ziege                   0%
Yes, none other than Paul Konchesky is our left back. So just how did he end up being regarded as one of, if not, the worst to have ever worn a red shirt? Let's find out…
The Hot Prospect
Growing up Konchesky was something of a bit of a prospect, being part of the youth system at West Ham before signing as a trainee with Charlton Athletic. He would go on to become Charlton's youngest ever player in 1997, roughly three months after he turned 16.
He didn't fully establish himself until the 2000/01 season in the Premier League, at which point he became one of the regular starters at The Valley. His form at Charlton also earned him the first of his two England caps in a friendly against Australia in early 2003. You know, the one where Francis Jeffers scored and some kid named Wayne Rooney played for the first time.
However, around this time, Konchesky was getting restless at Charlton. He was unhappy at not being played at left back and submitted a transfer request which Charlton were happy to accept. No real bids were ever made until Tottenham came forward and picked up Konchesky on a loan deal for an initial month. He would stay on until December 2003 when Charlton recalled him.
He would remain with the Addicks until the summer of 2005.
Across London
Konchesky would leave Charlton in 2005 to join newly promoted West Ham. He was a regular as the Hammers reached ninth in the Premier League and got to the FA Cup Final. It was in that game in Cardiff that Konchesky had his most memorable moment in his career.
The ball was fed out to him on the left wing with the score at 2-2. He was given enough time and space to deliver a cross looking for the ever dangerous Dean Ashton. Konchesky, however, got it all wrong and sliced his cross. It flew completely over Pepe Reina's head and nestled in the back of the net. Of course, as we all know, Liverpool would go on to win the cup with Konchesky missing a penalty in the shootout.
The following season was a rough one for West Ham as they crashed out of Europe early and their form slumped with the signings of Tevez and Mascherano not working quite as expected. Konchesky would lose his place in the team too before falling out with his former Charlton boss Alan Curbishley who had taken over mid-season.
He was sold in the summer of 2007 to Fulham where he helped the club survive in the Premier League under Roy Hodgson before thriving and reaching the Europa League final where they lost to Atletico Madrid.
Liverpool v Paul Konchesky's Mum
Of course, relative success at Fulham meant that Roy Hodgson would be appointed the new Liverpool manager in 2010. He eventually decided that he didn't like any of the left back options at the club and wanted Konchesky. He eventually got his man towards the end of the summer transfer window and boy did we wish he hadn't.
His eighteen appearances were disastrous – he was cumbersome, slow and not very good going forward. He was a limited full back that was perfect for Fulham and West Ham but hopelessly out of his depth at Anfield. It didn't help the club was in turmoil, but Konchesky really was atrocious.
He was so poor in one game at Stoke that his mum took to Facebook to defend her son claiming that the team isn't as good as the fans thought it was and to stop being so harsh on nice little Paul. Obviously, that worked so well that her son was ironically cheered in a home defeat to Wolves as he was taken off.
Here's a lovely video to sum up Paul's Liverpool career…
Post-Liverpool
Luckily, when Hodgson was sacked in early January, King Kenny came in, took one look at Paul and shipped him out on loan to Nottingham Forest. He looked far more at home in the Championship did Konchesky, so much so that at the end of the season he was sold to Leicester.
His time at Leicester was relatively successful, helping the Foxes to the Championship title in 2014 and to somehow escape relegation in the 2014/15 season. However, on the eve of Leicester's historic title-winning campaign, he was informed that he was no longer wanted at the club and loaned out to QPR for the season.
After his release from Leicester in the summer of 2016, Konchesky spent a brief spell with Gillingham Town before joining current club Billericay Town down in the eighth tier. How the mighty have fallen, eh?
So that sums up the atrocity that was Paul Konchesky at Liverpool. Next week, we start on the centre-backs with a giant Dane that shone in international competition but stunk up the Premier League in the early 1990s.