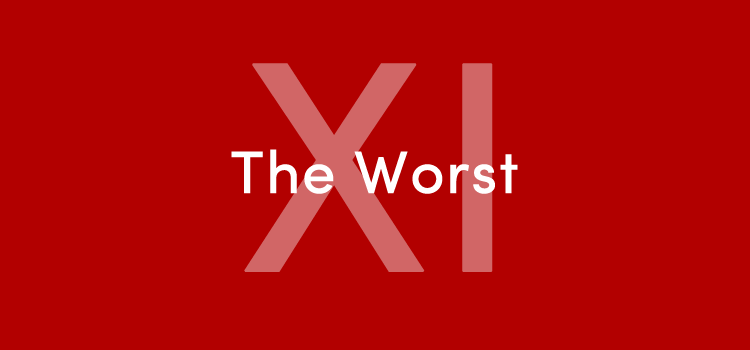 Welcome back to another edition of the Worst XI where we'v collated all your votes and are revealing each player one position at a time.
We only have four to go and, this week, we hit the central midfielders. The engine room of a team, the area that makes it tick although if the side played together, the engine would probably need a bit of fixing. Now, I won't reveal the full results but I will reveal the first midfielder and the man that finished second in the voting was…
Christian Poulsen.
Oh dear.
Journeying Round Europe
Having made his name in his native Denmark by helping FC København to the league title and going to the World Cup in 2002 with Denmark, Poulsen would begin his mini tour of the major European leagues by joining German side Schalke that summer. He would help the club win the German version of the League Cup in 2005 as his performances drew admiring glances from elsewhere.
He would leave in 2006 for Spain and Sevilla where more impressive performances helped the Spanish side to another UEFA Cup as well as a Copa del Rey. He'd be gone after just two years when he made the move to Italy with Juventus where he struggled for form and success before being allowed to leave in 2010.
During this time, Poulsen also managed to draw the ire of Francesco Totti (who spat at him during Euro 2004); Carlo Ancelotti (who called him a coward after he apparently kicked Kaka) and the entire country of Sweden after he punched Marcus Rosenberg in a Euro 2008 qualifier that descended into anarchy because of it.
The Liverpool Year
Javier Mascherano's departure after the opening Premier League game of the season stung and left a huge void in the middle of the park for Liverpool. Roy Hodgson's brilliant decision to replace him was to spend £4.5 million on a 30-year-old Poulsen which instantly felt like a colossal downgrade.
And it was. His performances were turgid, slow and sideways. Liverpool needed someone to grab a game by the balls not get them and pass them sideways. Poulsen was clearly more suited to the less physical worlds of Serie A and La Liga as in the Premier League he was completely out of place.
There were positive signs when Kenny Dalglish arrived in January 2011 but, despite Poulsen's best efforts, it became brutally apparent that Jay Spearing was going to start ahead of him. By the end of the season, Poulsen had already packed his bags with the club shipping him off to French side Evian, probably at a bit of a loss.
While last week's inclusion of Milan Jovanovic can, in part, be attributed to Rafa Benitez, the signing of Poulsen can be pinned solely on the shoulders of Roy Hodgson. At a horrendous time to be a Liverpool fan, Poulsen's awful performances certainly summed up everything that was wrong with the club. He was the bargain bin replacement for a genuine world class player and that's a little bit insulting to bargain bins.
Here's a video summation of Poulsen's Liverpool career: