Having lost to Real Madrid in the Champions League in mid-week, the challenge for Liverpool now is to qualify again for Europe's elite competition.
But this has been far from easy given the club's inconsistent performances of late, in particular their poor away form.
Spurs meanwhile, are in the driving seat, sitting in fourth place with the points on the board.
However, surprise package Newcastle have two games in hand on Spurs. Win them and they will be up to fourth.
It is anyone's game with 12 matches of the season still to go.
Let's analyse the run in for each side, starting with, yes you guessed it, Jurgen Klopp's men.
Liverpool – 6th, 26 matches, 42 points
An underachieving season for the Reds leaves them in the perilous position of potentially not qualifying for the next edition of the Champions League.
They will also finish the season without a trophy, in stark contrast to last term where they challenged on all four fronts, and won the domestic double of the Carabao Cup and FA Cup.
The sale of Sadio Mane appears to have hit the team for six, and new signing Darwin Núñez has been slow to adapt to the English game.
There has also been a raft of injuries which hasn't helped.
The inconsistency and strange form is best summed up by the stunning 7-0 demolition of Manchester United at Anfield.
And then a week later, a 1-0 loss to lowly Bournemouth epitomising their struggles.
On the road, the away form has been very disappointing for a club of such high standards, and Klopp recently confessed this is the main reason they are in this position.
Losses to Brentford, Brighton, Wolves and Bournemouth, were mixed with two 0-0 draws with Chelsea and Crystal Palace, which has seen Liverpool throw points down the drain.
The only bonus was a surprise away win against rivals Newcastle at St James' Park, and impressive home victories against Everton and Wolves respectively.
Now a tough April awaits and here are the fixtures…
April:
Saturday 1st April: Man City vs Liverpool, 12:30
Tuesday 4th April: Chelsea vs Liverpool, 20:00
Sunday 9th April: Arsenal vs Liverpool, 16:30
Monday 17th April: Leeds United vs Liverpool, 20:00
Saturday 22nd April: Liverpool vs Nottingham Forest, 15:00
Wednesday 26th April, West Ham vs Liverpool, 19:45
Sunday 30th April, Liverpool vs Spurs, 16:30
Having Man City, Chelsea and Arsenal back-to-back would be a challenge for any team, yet alone an out of form Liverpool team who have been seriously under fire from fans, pundits and the media alike.
City are still chasing the title, albeit not at their very, very best, they will be a formidable opponent at the Etihad.
Chelsea are arguably struggling more than Liverpool, and not a lot of press attention has come of this, surprisingly enough.
The two will be going at it, both desperate to win and with a point to prove, that they aren't as bad as people say.
Arsenal have been the best team in the Premier League this season, and with an eight point lead, they will want to widen the gap.
Beating them at the Emirates will be a tough ask, but for the first time in years, Liverpool are underdogs going into that game, meaning the pressure is completely off.
That may give them the chance they need to cause an upset.
Leeds have improved since the appointment of Javi Gracia, and have won three of their last four in the league.
They are now safely up to mid-table, making this a tougher game than it would have been a few weeks ago.
Although on paper, and with the difficult fixtures preceding this, it is a must win for the Anfield side.
Nottingham Forest at Anfield is another match that Liverpool simply has to win to stand any chance of finishing in the top four.
West Ham at the Olympic Stadium will be a tough fixture, but they are not the team they once were and should provide an opportunity to put points on the board.
And finally, Spurs at Anfield is a crucial acid test as both are direct rivals for Champions League qualification.
This is probably the match they need to win the most, in order to claw back the difference and by this time, hopefully overtake Antonio Conte's side.
May:
To Be Confirmed (TBC), Liverpool vs Fulham
Saturday 6th May, Liverpool vs Brentford, 15:00
Saturday 13th May, Leicester City vs Liverpool, 15:00
Saturday 20th May, Liverpool vs Aston Villa, 15:00
Sunday 28th May, Southampton vs Liverpool, 16:30
Fulham have had a fantastic season, but by this point, tired legs and home advantage should see Liverpool capitalise here.
The same could be said for Brentford, although Thomas Frank's outfit will provide a stern test.
Leicester are not the team of old, and should represent a very winnable fixture, although, boss Brendan Rodgers will have a point to prove against his old employers.
On the penultimate weekend of the season, Klopp's team will need a victory and should be able to get it against Aston Villa.
Southampton on the final day. St Mary's is a tricky place to go but knowing the stakes, you would have to back the Reds to finish on some kind of tangible high.  Naturally if you think that might happen you can get decent odds on Liverpool making the top 4 with a good football bookmaker.
Spurs – 4th, 28 matches, 49 points,
The London team are in a fantastic position and it would be a credit to Conte, despite the criticism he gets, if he got back-to-back top four finishes.
Without him or a world class coach, it is easy to see them struggling.
The talk of the town is that the Italian will depart at the end of the season and fan favourite Mauricio Pochettino will seal a mouth-watering return.
They have less games than their rivals, with just 10 matches to play.
And last time out, they could only manage a 3-3 draw with Southampton, after a stoppage time penalty from James Ward Prowse.
Here are their April match-ups…
April:
Monday 3rd April, Everton vs Spurs, 20:00
Saturday 8th April, Spurs vs Brighton, 15:00
Saturday 15th April, Spurs vs Bournemouth, 15:00
Sunday 23rd April, Newcastle vs Spurs, 14:00
Thursday 27th April, Spurs vs Man United, 20:00
Sunday 30th April, Liverpool vs Spurs, 16:30
Everton under Sean Dyche haven't set the world alight, and shouldn't be the hardest task for Conte's men.
Brighton are flying this year under Roberto De Zerbi and will be a force to be reckoned with.
Spurs are at home though which makes it more winnable than if it were at the Amex.
Bournemouth should be straightforward, although they beat Liverpool and gave Arsenal a run for their money at the Emirates.
The big clash is Newcastle, who by this point, could be the one's occupying fourth place.
That could go either way, although St James' Park will be rocking.
United at the Tottenham Hotspur Stadium also promises to be an exciting match-up.
Liverpool the following weekend, cap's the trio of difficult fixtures and Anfield can be a fortress if utilised the right way by the home side.
But Spurs will fancy their chances in all of those games.
May:
Saturday 6th May, Spurs vs Crystal Palace, 15:00
Saturday 13th May, Aston Villa vs Spurs, 15:00
Saturday 20th May, Spurs vs Brentford, 15:00
Sunday 28th May, Leeds United vs Spurs, 16:30
Managerless Palace, having sacked Patrick Viera haven't won in 2023. Although their fortunes will have surely changed by then.
Spurs should win that, and Villa away shouldn't be too arduous.
A London derby against Brentford promises to be a worthy showdown.
And Leeds on the final day should be another win.
Newcastle – 5th, 26 matches, 47 points
With two games in hand on Spurs, Eddie Howe's men stand a superb chance of their best Premier League finish for almost 20 years.
Not since Sir Bobby Robson have they played this well in the league.
Having reached the Carabao Cup final, losing to United, a Champions League spot or even Europa League represents some achievement.
In their last match they saw off Forest with a last-ditch penalty to net all three points.
Here is their run in…
April:
Sunday 2nd April: Newcastle vs Man United, 16:30
Wednesday 5th April, West Ham vs Newcastle, 20:00
Saturday 8th April, Brentford vs Newcastle, 15:00
Saturday 15th April, Aston Villa vs Newcastle, 12:30
Sunday 23rd April, Newcastle vs Spurs, 14:00
Thursday 27th April, Everton vs Newcastle, 19:45
Sunday 30th April, Newcastle vs Southampton, 14:00
The Toon Army will want revenge against United after the cup final, and they could well get it with that added motivation.
West Ham shouldn't be too difficult, although the easiest matches can always be the hardest.
Brentford at the Community Stadium will be a tricky match.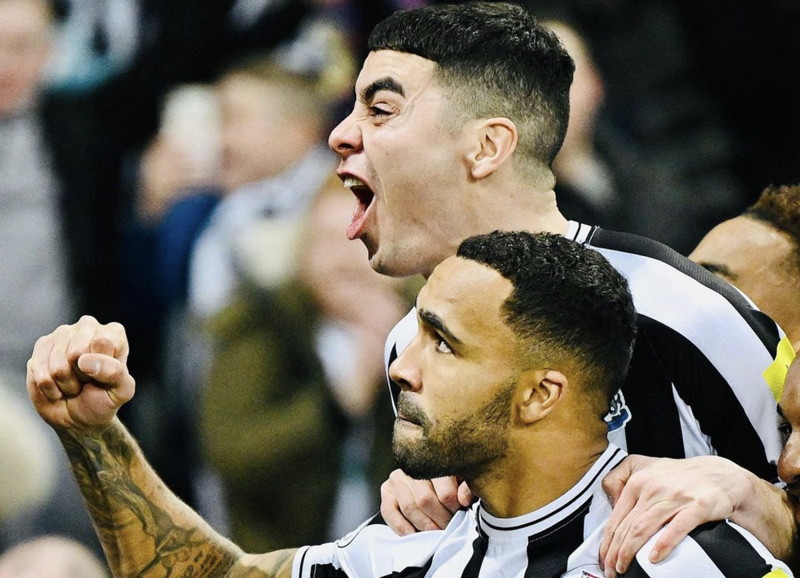 Villa is another chance to bank some vital points.
The Spurs match is the BIG one, and could go along way to deciding who finishes fourth.
Everton is also another winnable game.
And Southampton at home shouldn't be too problematic.
May:
Saturday 6th May, Newcastle vs Arsenal, 15:00
Saturday 13th May, Leeds vs Newcastle, 15:00
Saturday 20th May, Newcastle vs Leicester, 15:00
Sunday 28th May, Chelsea vs Newcastle, 16:30
If Arsenal are still top, and even if they aren't this is mighty good match for the neutrals and Newcastle at home will fancy an upset.
They should then beat Leeds away and Newcastle at home.
But Chelsea on the final day will be tricky, meaning fourth place could go down to the wire.
Final thoughts
All in all, Spurs appear to have the easier run in, with less matches to play and just Newcastle, United and Liverpool to worry about.
Their main concern should be the uncertainty and speculation around Conte's future, which could derail their top four hopes.
Newcastle have four big matches in United, Spurs, Arsenal and Chelsea, but the pressure isn't on them, meaning they can upset the odds.
Liverpool has the most difficult run in by far, and everyone will be keen to beat them, but they have produced with their backs against the wall before, and will need to do so again.