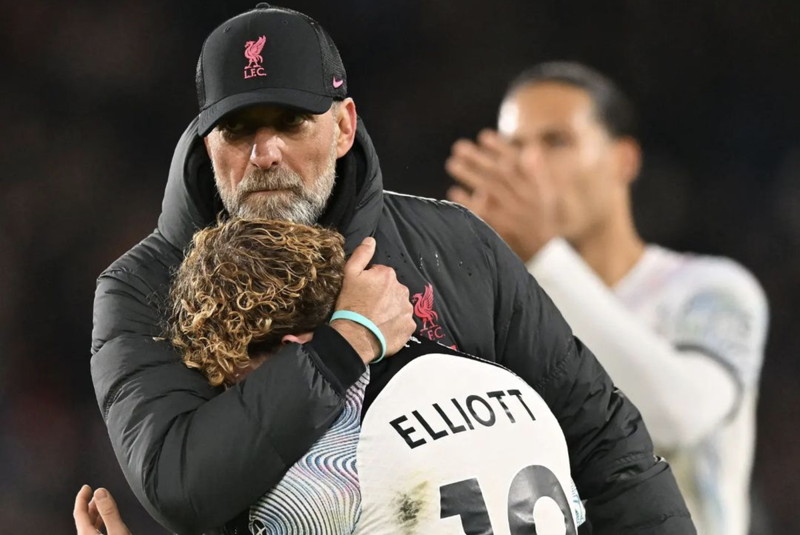 Liverpool's lacklustre season continued as they were held to a disappointing draw against Crystal Palace at Selhurst Park.
Having lost 5-2 in the week to Real Madrid at Anfield, the onus was on the visitors to return to winning ways.
But with their confidence shot, this outcome never looked likely, and it looks like a summer of big changes at the club is needed to refresh an ageing and perhaps stagnant squad.
Jurgen Klopp must now be pondering whether the top four and a place in next season's Champions League is realistically beyond them, as they are now nine points off Tottenham, albeit with two games in hand.
For Crystal Palace, they remain without a win in 2023, having drawn a host of matches, but the result keeps them firmly in mid-table and safe from relegation.
Hosts Get The Better Of The First-Half
In the late Saturday evening kick-off, Liverpool sporting their smart white away kit, knew they needed to eliminate the defensive mistakes which cost them dearly against Real Madrid.
But déjà vu saw the Reds defence again in a muddle, as a mix-up between Joel Matip and Trent Alexander-Arnold, saw the England full-back give the ball away to Palace striker Jean-Philippe Mateta.
Luckily for Liverpool, Alisson again came to the rescue, like he has so many times this season, as he palmed the effort away.
Diogo Jota, in his first league start since returning from injury, then had an angled volley on the edge of the penalty area saved by Vicente Guaita.
View this post on Instagram
The Portugal international most certainly should have scored his next chance, as he headed Matip's cross against the frame of the post, when well placed and the goal gaping.
Palace then had a glorious chance of their own as Marc Guéhi headed wide from an inviting Michael Olise free-kick.
Alexander-Arnold would certainly have opened the scoring from a free-kick, but captain Jordan Henderson blocked the shot with his head accidentally, which was goal bound.
Another chance came Palace's way, as Olise's volley across goal was blocked by Naby Keïta and whistled wide of Alisson's post.
The best opportunity of the half for the hosts came after another defensive mistake by Alexander-Arnold, as Jeffrey Schlupp easily knocked the scouser off the ball, and crossed for Mateta, but the Frenchman hit the crossbar.
Close but no cigar.
Both teams trooped into the interval knowing they needed to sharpen their attacking exploits, otherwise, goals will continue to elude them.
View this post on Instagram
Salah Hits The Bar
If the crossbar or the woodwork would be this game's arch nemesis, then that would be a fair statement to make.
And it happened AGAIN, shortly after half-time.
Matip passing to Alexander-Arnold, his right-wing delivery was met by Jota, who teed up Mohamed Salah, and the Egyptian cracked the crossbar with a fine curling ambitious effort.
The club's talisman then turned provider, setting up Cody Gakpo but Guaita raced out of his goal to deny the Dutchman, who looked visibly disappointed and frustrated by how him and his team's night had gone.
Had he scored it would have been three in a row in his last three Premier League matches, but like Liverpool trying to win all three points, it wasn't to be.
In the 77th minute, a nice tribute came from both sets of supporters to legendary commentator John Motson, who passed away aged 77, on Thursday.
RIP John Motson 💔
An absolute Legend of the game.
So many of us grew up listening to this man describe the action & goals on MOTD & cup finals. Sad loss.
🎙️ ⚽️ pic.twitter.com/R9nWShRTzD

— Jamie Carragher (@Carra23) February 23, 2023
Motson, Salford born in 1945 the year the Second World War ended, commentated right up till he was 73, his last match ironically being in 2018 at Selhurst Park, the very same ground.
A master of the commentary trade. His voice was iconic, and 'Motty', as he was so often called, will be sorely missed by all in the football community.
An iconic voice of the game.

Rest in peace, John Motson. pic.twitter.com/CQBbvqs8Jn

— Liverpool FC (@LFC) February 23, 2023

The final chance of the match came to Palace, as they put some pressure on with a dangerous cross into the box, headed out for a corner by Matip.
And again, they held firm from the set-play.
Yes, the Reds defence stayed strong and kept the clean sheet, three on the bounce now in the league, but it was another tough day in the office for Liverpool's players and supporters.
With the top four Champions League places looking increasingly unlikely, with 15 matches left to play, what is their goal now?
If this result was anything to come by, just getting through the season seems Klopp's primary aim.
View this post on Instagram
Klopp – 'It looks like we lost the game…'
The German began talking to the media with his usual analysis of the match and each half.
"It's a good point, and the main difference from all the other games we've played here over the years, is we didn't score tonight.
"Apart from when they hit the crossbar they had no shots on target, which is a good sign for us.
"Could we have done better? Yes. I think so," Klopp conceded.
"It was a tough game; we got a point and a clean sheet – let's carry on."
One of the most pressing questions, was where does this now leave the club's ambitions and aspirations for the rest of the campaign.
"We keep going. I see in your eyes and, also, the players, that it looks like we lost the game. We didn't," he said.
"We spite ourselves with lots of things, but we cannot suffer because of our own history. That would be a joke.
"This will not be a season for the history books. It will not be in any big movies. But we have to go through it," reflected the boss.
"I see it in two ways. We didn't win, which sounds very negative.
"Or we have a point more than before, which I think sounds pretty positive. So, we can choose."
James Milner – 'We have to stick together'
Club stalwart, James Milner, and one of the main captains on the field, with his wealth of experience within the game, was more critical of his side.
In stark contrast to Klopp, ever more the positivist, with his aim of keeping up the morale of supporters and media alike.
"With where we are at the moment, and things not going our way, it's probably hitting us harder than it should, and that's something we can deal with better," said the former England midfield operator.
View this post on Instagram

"On the field we have to be better. If the pass doesn't come off, don't shy away from it next time. Go again. Or if you hit the woodwork, don't get too disappointed.
"Everything feels a lot more difficult when things aren't going your way. That's human nature and how the brain works when you're in a tough run and a difficult season.
"But we have to rally, stick together and keep working hard."