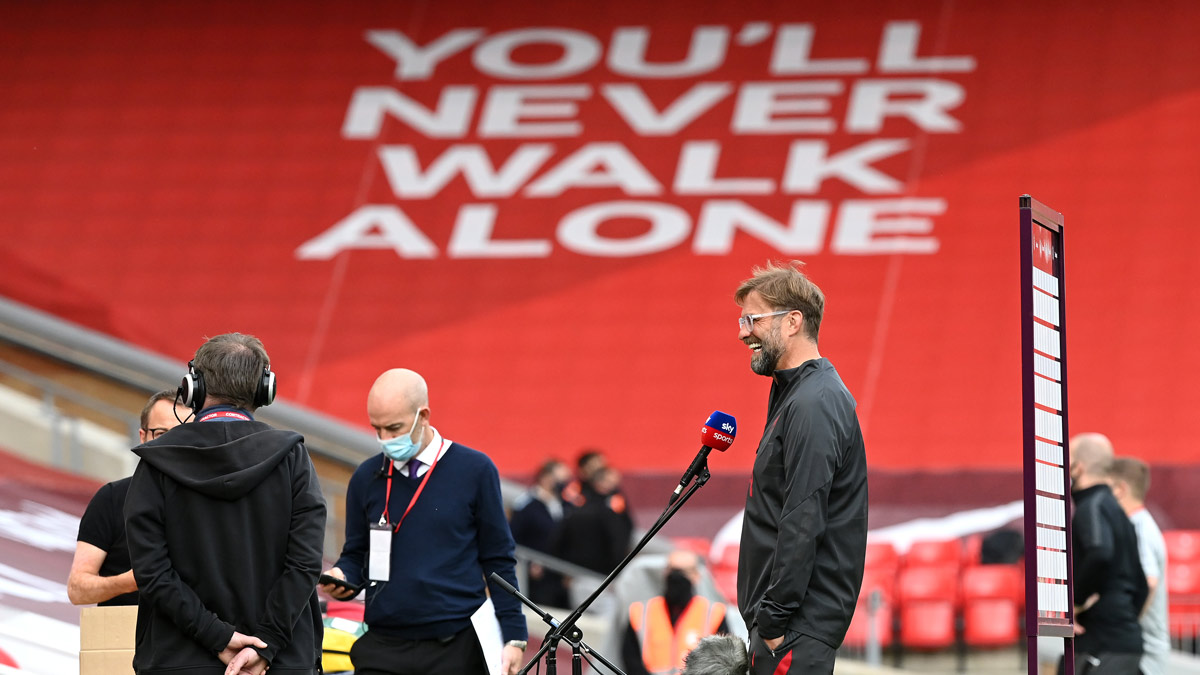 Over the past few weeks, Jurgen Klopp has been increasingly vocal about his discontent with the Premier League's congested fixture schedule and fixture times as well as their unwillingness to re-introduce five substitutions per game.
Most leagues in Europe are still allowing teams to make five subs per game. Klopp was adamant that the Premier League needs to bring back the rule for player welfare after his side drew 1-1 against Brighton & Hove Albion.
"When we had the talk between the managers last week it was 16:4 (in favour) of five subs. Since then nothing has happened" he told Des Kelly last weekend.
He even made a comical dig at Sheffield united boss Chris Wilder who is undergoing a terrible season so far with 9 losses from his opening 10 games.
"Chris Wilder says that I'm selfish. I think all the things that he says show that he is selfish. I was in a similar situation at Mainz when all that mattered was staying in the league. But now they have three subs and one Premier League point so there is no tactical advantage (to five subs) – it's all about player welfare."
It's not just the removal of five substitutions which has Klopp on edge at the moment. To him, the Premier League's kick off times have been just as bad.
He also produced another lengthy interview with Sky after Liverpool's emphatic 3-0 win over Leicester City two weeks ago, so his anger with the TV broadcasters isn't about results.
"It's about all the players. If you (Sky) don't start talking to BT then we are all done"
he said.
Premier League sides have suffered from an abundance of injuries this season because they have not been given enough recovery time in between fixtures. Since the start of the season, Liverpool have had 15 players out of action due to injuries and positive Covid-19 tests.
Klopp also insisted that he was speaking for everyone in the Premier League and not just Liverpool.
"Whatever I say, everybody's like 'He only talks about Liverpool', I don't talk about Liverpool – I talk about (all) the football player's out there. Start talking and start making decisions."
Sky chose not to broadcast their interview with Klopp on social media, but BT were more open to his views and their interview with the Liverpool manager appeared on their Twitter and YouTube pages.
Klopp isn't alone in the fight for more suitable fixtures and the inclusion of five subs per game either.
Just last month, Guardiola bemoaned about the fixture list before his side faced West Ham.
"Every season, not (just) for this special year with Covid (that) we have to adapt"
he said.
Amid talks of a new 'European Super League' last month, Guardiola opened up on his fears that the fixture schedule could get even more congested in seasons to come.
"They want to create new things [competitions] and always it's the same, two or three weeks a year to rest. All the teams in Europe have this problem. The schedule is completely crazy for everyone."
Even Manchester United manager Ole Gunnar Soljear vented his frustration at the kick-off times this season after his side triumphed against Everton last month.
"They set up the boys to fail. We've been to Turkey on Thursday night then come here Thursday morning and we're playing Saturday lunchtime kick off. It's an absolute shambles"
he said.
However, the broadcasters are not the only cause of the problem. It also involves the Premier League clubs who sign the contracts. The broadcasters are just working within the rules of the Premier League.
As Klopp pointed out though, the TV contracts were not designed for a shorter season like this one and the broadcasters are still able to choose when games will be played.
"You picked the 12:30 kick off"
said Klopp.
"Not you personally but you did, didn't you?"
he asked Des Kelly last weekend. There have been 72 reported muscle injuries from the 119 matches which have kicked off at 12:30pm on a Saturday in Premier League history. (Premier Injuries)
Klopp claimed that Liverpool have been forced to play at 12:30pm on a Saturday more than any other team this season, but this is not correct. By the end of the year, Liverpool will have played at 12:30pm on a Saturday three times whereas Everton will have played four times.
Liverpool take on Wolves this weekend after their 1-0 win over Ajax on Tuesday night. 2,000 fans will be allowed into Anfield for the first time in over 8 months.