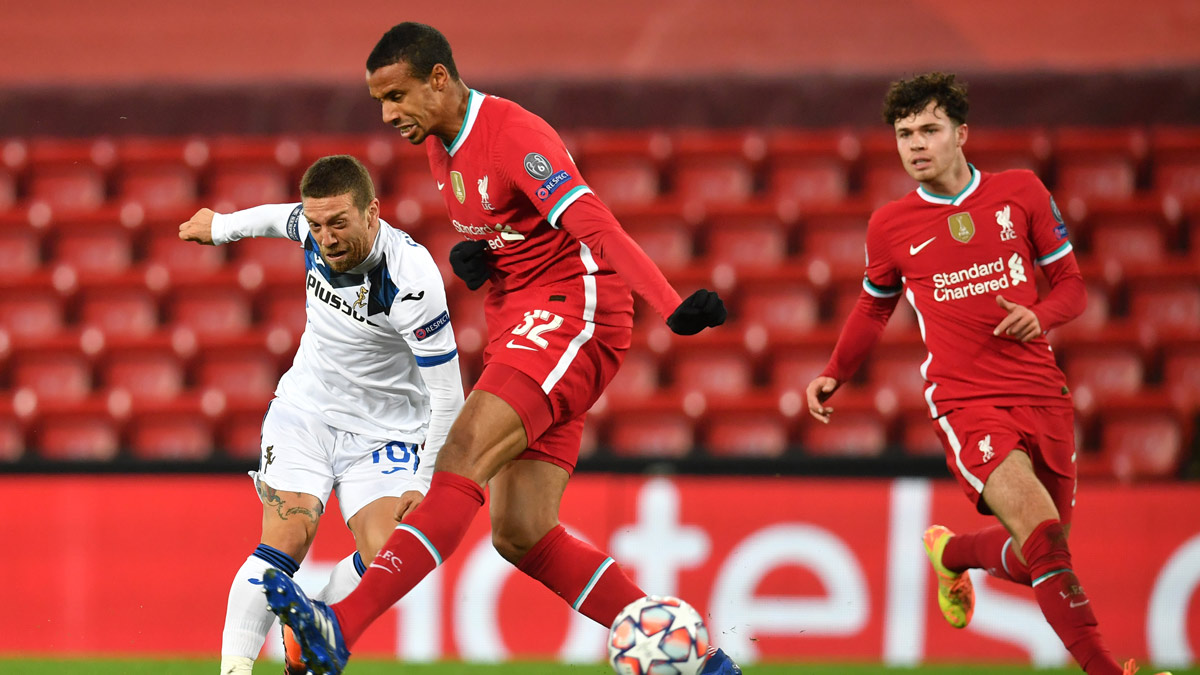 Liverpool could have secured qualification for the Champions League group stage with two games to spare on Tuesday night, but Atalanta pulled off a composed performance and secured the three points at Anfield.
It was the heaviest Anfield set back of Klopp's five-year reign and the first time that Liverpool have failed to register a shot on target in a Champions League home game since Opta began recording data for the competition in 2003.
Klopp made five changes from his emphatic win over Leicester City last weekend.
"A deserved defeat and it doesn't feel great"
he said in his post-match press conference.
"It was important for us to make changes. It didn't work out but I'd do it again. We can't send the same players out constantly".
Origi was chosen ahead of Minamino but Klopp's trust was not repaid. Mane and Salah continued to press Atalanta's defence but Origi's performance looked lacklustre and uninspired. Klopp wasn't pleased with the Belgian's movement in the box and he grew more and more frustrated as the game went on. Apart from one slick exchange with Salah, he contributed almost nothing at all and Liverpool struggled going forward.
Origi has become an icon amongst Liverpool supporters in recent seasons. His late goals against Everton and Newcastle pushed Liverpool to compete for their first league title in over 30 years during the 2018-2019 season and he was at the top of his game when Liverpool thrashed Barcelona at Anfield. His goal in the Champions League final delt the killer blow to Tottenham and secured Liverpool's sixth European cup. Origi has rekindled his Liverpool career in the past but his tenure with the Reds could well be coming to an end now.
Alongside him, Salah struggled to get into the game and Sadio Mane was swarmed by Atalanta's defence whenever he gained possession of the ball. Atalanta remained compact and neither Mane or Salah were given enough space to create chances and make a real impact on the game.
Back up left back Kostas Tsimikas made his second start for the club after his £11.75m move from Olypiacos in August. A multitude of minor injuries and a positive Covid-19 test have made it difficult for him to adjust to Klopp's system and Klopp seemed discontent with how he used possession. However, he did look like Liverpool's brightest player at times and it's important to remember that Andrew Robertson went through the same adjustment period when he joined the club in the summer of 2017. The Scotsman tried to brighten things up for Liverpool during the final 30 minutes of the game, but the team looked disjointed after the interval and Atalanta were able to capitalise on a poor Liverpool performance.
It was also a tough outing for Neco Williams. The 19-year-old made 110 touches, but Atalanta were able to pressure him off the ball and he lost possession a total of 27 times. A loan spell at another club might be more beneficial for the youngster as he looks to be the back-up right back for Trent Alexander Arnold. Alongside Neco, Rhys Williams was also closed down on the ball and he lacked concentration for Atalanta's second.
It is, however, Important for us to put this defeat into perspective. If Liverpool beat Ajax at home or Midtjylland away then they will be through to the group stages of the competition. In a season when this Liverpool side have been tested like never before, this was a rare blip from them which should be forgotten about when the Reds take on Brighton this weekend.
"I gave the boys 10 minutes to be disappointed. I told them in the dressing room 'Come on, feel the defeat, absolutely right, but then recovery starts, and we go again"
said Klopp.