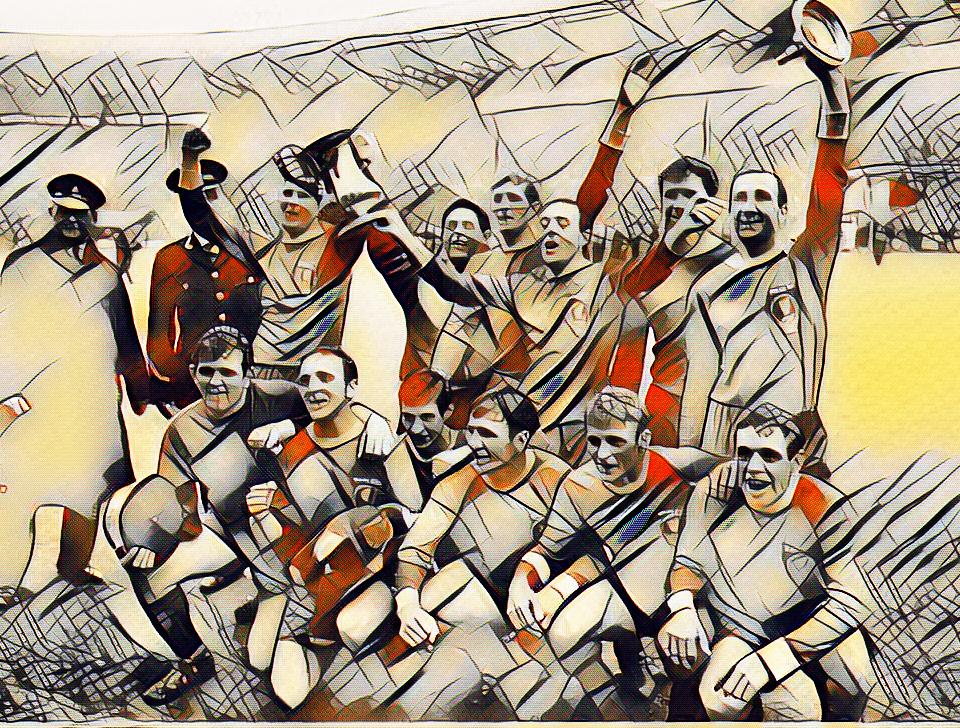 Very few people can say that a family member has won the prestigious FA Cup. Even fewer can say that their family member won the FA Cup then lost it the same day! That's the position I find myself in after my granddad, ex Liverpool goalie Tommy Lawrence managed to misplace the illustrious FA Cup back in 1965.
Fewer things make me prouder than knowing that my own granddad has taken the steps up to the royal box to shake the Queen's hand and then lift the FA Cup in front of thousands adoring Liverpool fans.
When asking my grandad about winning one of the greatest honours in English sporting history, he sternly said:
"You were nothing until you won the FA Cup! It didn't matter that we won the league the year before, we were still seen as nothing."
This all changed on the 1st of May, 1965. Liverpool played Leeds in the 20th post-war final. Though it wasn't the tidiest of games, it was an emotionally charged match which saw the fans going through a rollercoaster of emotions.
It was a tightly contested 90 minutes of football with both teams having chances to win. However, extra time was needed to separate the two sides. Liverpool got off to a flying start, scoring three minutes into the first half, thanks to a Roger Hunt headed goal. His attacking instincts and positioning were enough to get him enough space to easily nod the ball past Gary Sprake.
Liverpool's lead didn't last for long as Leeds midfielder Billy Bremner had other ideas. Seven minutes later he left my granddad rooted helplessly to the spot with an exquisite volley to level the score. A goal which is up there with one of the greatest in FA Cup history.
My grandad recalls the electric atmosphere in the ground at 1-1:
"both sets of fans thought it was theirs for the taking. It was like the entirety of Liverpool were there cheering us on, I've never forgotten it".
With the twelfth man completely behind Liverpool, it was inevitable that it wasn't going to finish a draw. Thirteen agonising minutes later Ian St John scored quite possibly Liverpool's most important goal ever. Ian Callaghan galloped down the right side of the 18-yard-box, beating a tired Willie Bell in the process to deliver an enticing ball. With the ball floating across the six-yard-box, there was still a lot of work for St John to do. He flung himself back towards the ball contorting his body enough to be able to guide the ball into the back of the unguarded Leeds net. An explosion of cheering erupted from the crowd, a noise which didn't quell until the early hours of the next morning. Liverpool had held on to win the FA Cup for the first time in their history.
After collecting the FA Cup my granddad was given the base (the plinth) as was the tradition. Shankly came up to him and said:
"Well done Tommy son, that's yours for the day".
It's safe to say what happened next is arguably is one of the cups greatest secrets.
As you would expect, Liverpool celebrated heavily after winning the FA Cup. Many a drink was opened in the changing rooms and hotel. However, during my granddad's greatest day ever (on par with my birth of course), he was interrupted by one of the most frightening of noises:
"I was sharing a hotel room with Alf (Arrowsmith), who'd came down to watch. The boys and I had been giving him a hard time as his parents would always wave him off before every game, something which makes him turn bright red. So, when he came running in saying: 'Shanks is looking for you, he's not happy!' I thought it was him getting one back at me. The next thing you know I could hear Shanks screaming: 'Where is he, Bob! (Paisley) Where's Tommy Lawrence!' I slowly went to the door and put my hand in the air".
With a sinking feeling, my granddad said: "I'm here sir". A red-faced Shankly shouted ferociously: "Where is it". "Where's what sir?" my granddad replied cowardly like a pupil getting scorned by his headmaster. "The bottom of the Cup, where is it!".
"Alf was sat down on his bed beside me. He started to sink into it to hide from Shanks. I said to him: 'I've no idea boss, I didn't even know I had it'.
"That's it, Bob! The first time we've ever bloody won the FA Cup and Tommy Lawrence has lost it!"
"Shanks furiously just walked away after that. I'd just won the FA Cup! It should have been the best day of my life but after that, I spent my entire time trying to avoid Shanks. I was trying to get out of the team meal in the evening. I'd lost the bloody FA Cup plinth, I felt awful."
Hesitantly Tommy went. Whilst quietly eating his meal, my granddads stomach once again sank as the booming voice of Shanks filled the air:
"Tommy son, come over here" Shanks shouted from across the room. "Have you seen son, we've found it! Safe to say a sigh of relief came from deep within my grandad. "Where was it boss?"
Shanks replied with a stern face: "I'll tell you what son it was in Southend, in a coach, on the top shelf! That's about as far away as you were to Billy Bremmer's volley in the final!"
A joke or considered words from a sharp-eyed coach who was always striving for perfection in the beautiful game, this is something we'll never know.
So, there we have it, the time my granddad won and lost the FA Cup within the space of a few hours, only for it to be found on the east coast. This story is one of the true hidden gems of the magical FA Cup.