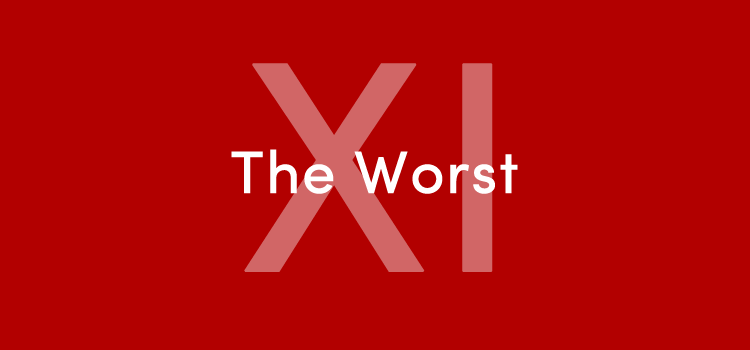 Welcome back to another Worst XI where we now have a full defence and begin to move forward into the midfield.
This week, we're focusing on wingers, those scoundrels that are supposed to light up our lives with skill, ingenuity and end product. Unfortunately, for Liverpool, we've had our fair share of utter tripe.
Shall we meet the sizable list of nominees? Let's do it…
Antonio Nunez – 27 appearances, 1 goal
One of many members of the 2005 squad that you seriously have to question how they managed to leave the club with a Champions League medal, Nunez was part of the deal that sent Michael Owen to Real Madrid.
So, having lost our star striker, we were left with Nunez who Rafa said was going to be brilliant. He was wrong. He was crocked, slow and clearly not cut out for the Premier League at all. He did play well in the League Cup final against Chelsea though so he wasn't totally awful all the time.
Bruno Cheyrou – 48 appearances, 5 goals
The new Zidane.
That's a direct quote from Gerard Houllier by the way. Poor Bruno had no hope once he said that.
Cheyrou had some bright spots – a winner at Stamford Bridge, a brace against Newcastle – but very often he was played wide and there was never any chance that he was a wide man nor was there any chance of him playing through the middle for the club either. The embodiment of Houllier's last years at Anfield.
Jimmy Carter – 8 appearances
Here's a blast from the past. Carter was signed for £800,000 back in 1991 in the final throes of King Kenny's first reign at the club and had helped Millwall establish themselves in the top tier.
Big things were expected from Carter but by his second game, the jig was already up. The Guardian said he was "a Millwall player masquerading in a Liverpool shirt" and by the time Dalglish had left six weeks later, Carter was out of the team already.
Sebastian Leto – 4 appearances
Not the first Rafa signing to be nominated for this team and definitely not the last. Poor Seb was a highly-rated Argentine who we'd got fairly cheap.
He played four times fairly early on in his debut season but only saw the game out once having contributed absolutely nothing. The club couldn't get him a work permit the following season and bunged him out to Greece where he clearly found a level suited to him.
Mark Gonzalez – 36 appearances, 3 goals
Actually signed in 2005 by the club but work permit issues delayed his arrival at the club by a year. By that time, he'd already impressed on loan at Real Sociedad so hopes were high for the rapid Chilean.
He scored the winner on his debut against Maccabi Haifa too but that was as good as it got for little Mark. He was not a Premier League player and looked horribly out of his depth at Liverpool. Another one that was sold after just a season.
Milan Jovanovic – 18 appearances, 2 goals
According to Neighbours (the obvious judge of footballing potential), he was one of the best players in the world. According to people who have seen him play, he's really not.
Rafa's parting "gift" to Liverpool was this pile of trash. His "highlight" came in his League debut against Arsenal where he fell flat on his face trying to head the ball clear. An apt representation of just how bad his Liverpool career was.
El-Hadji Diouf – 80 appearances, 6 goals
Let's just get this out of the way.
Diouf is the prime example of never signing a player based on tournament performances. He looked a star at the World Cup in 2002 for Senegal but his time at Anfield saw him leave so universally hated that even Charles Itandje has to stop and take a minute.
From spitting on Celtic fans to being just a general gobs***e and crap at football, Diouf was awful.
Mark Kennedy – 21 appearances
Signed from Millwall (alarm bells ringing), Kennedy was made the country's most expensive teenager by the club so it only stands to reason he barely played.
As it turned out, his early promise at Millwall was only that – promise. When it came time to step up a level, Kennedy struggled very, very badly. That £1.5 million always loomed large.
Bernard Diomede – 5 appearances
A star for Auxerre in the 90s and World Cup winner with France, there was some real excitement around the signing of Diomede in 2000. Naturally, he played just five times for the club.
£3 million well spent I think you'll find but, to be fair, he might have avoided the list if his incredible overhead kick at Sunderland hadn't been incorrectly ruled out.
So, those are the nominees and I think you'll agree that it is a whopper list. Vote for your worst down below. Next week we look at central midfielders featuring Alonso's replacement, a Bundesliga winner and a Premier League winner.