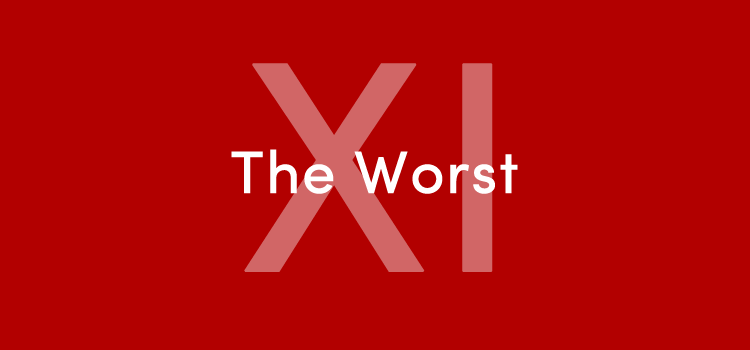 Welcome back to the Friends of Liverpool Reader's Choice Worst XI Ever!
Last time out, we looked into deciding who would stand rather nervously between the sticks of this nightmare inducing team and it is now time to decide who will defend the wings.
Liverpool have had some wonderful fullbacks in the past, from Alan Kennedy and Phil Neal to Steve Finnan and John Arne Riise in more modern times. However, there have been some truly diabolical players that have graced the wide defensive positions in a red shirt and, spoiler alert, many of them we have Rafa Benitez to thank for.
So, without any further ado, let's meet our nominees…
Andrea Dossena – 31 appearances, 2 goals
For 99% of the eighteen months Andrea Dossena was at Liverpool, he was utterly hopeless. Slow, useless and incapable of anything positive going forwards or backwards. It left many people longing for the return of John Arne Riise. Even Fabio Aurelio decided to stay fit for much of the season just so Dossena wouldn't have to play.
However, Dossena does have two redeeming qualities. For a week in March 2009, he became the greatest goalscoring substitute since David Fairclough back in the 70s and 80s. Sent on at Old Trafford at 3-1 up, he promptly lobbed Edwin van der Sar to make it 4. Then, in midweek, he repeated the trick against Iker Casillas and Real Madrid. Never before have two legendary keepers been beaten in the same way by such a hopeless player.
Last seen allegedly shoplifting in Harrod's when at Leyton Orient.
Philipp Degen – 13 appearances
Fun fact – Degen was on the books of Liverpool for three years. Why is that fun? Well, he was injured all the time and when he did finally get himself off the treatment table for a run-out, he got injured, sent off or was involved in some form of embarrassment.
Rafa did pay absolutely nothing for him from Borussia Dortmund, but a quick glance at his injury history should have been enough for Liverpool to have run for the Alps and leave the Swiss full-back alone. Instead, despite only playing ten times the previous season, he was signed. Top business.
Josemi – 35 appearances
The first buy of the Rafalution was the "tough" full-back from Malaga. For tough, see "boots people at every opportunity he gets".
Josemi did start fairly promisingly and he even managed to get a Champions League winners medal. He didn't feature at all in Istanbul, despite Steve Finnan (who, in spite of all of Rafa's buys was always the first choice) going off at half-time. I'd be surprised if most people remember him at all.
Abel Xavier – 21 appearances, 2 goals
In the absence of the ill Markus Babbel, Liverpool needed depth at right back. So, where better to turn to than the man who starts for your rivals just across the park? And that's exactly what Houllier did when he bought Xavier from his hospital bed in 2002.
He was a little different was the Portuguese and got a decent run in the side, even managing two goals against Ipswich (including being the first defender to score on his debut for Liverpool since 1969). However, within a few months, Houllier had already banished him since he wasn't very good, nor particularly popular.
Currently goes by Faisal Xavier and practices Islam.
Paul Konchesky – 18 appearances
I'm sorry to drag up bad memories but he has to be here.
Signed by the comical Roy Hodgson in what was the darkest period in the club's history thanks to a couple of Americans, Konchesky was meant to be the answer to a left back question that still hasn't been properly answered to this day.
Unsurprisingly, he wasn't. He was terrible. Like, 'how does he make a living off of football?' terrible. He was so bad his mum had to defend him on Facebook after one particularly poor performance against Stoke. In fairness, she was right. That team was crap. But so was her son.
Jan Kromkamp – 18 appearances
Josemi's replacement turned out to be worse than Josemi. He featured fairly regularly in his short stint at Liverpool but, in all honesty, nobody knows why.
Big, gangly and slow, Kromkamp was clearly not up to speed or scratch in any way, shape or form. Somehow, Rafa had gone out and replaced the bad Josemi with the even worse Kromkamp. He would be gone in just over six months, back to the Netherlands.
Christian Ziege – 32 appearances, 2 goals
Christian Ziege was a talented and successful footballer. He had won Serie A with Milan and featured extensively for Germany yet, for whatever reason, at Liverpool he was not very good.
Ziege never really fit in at Anfield and, despite winning a treble in his only season at the club, he was benched for the tail-end of the season and sold to Tottenham in the summer. The poor German was prone to moments of absolute madness defensively and his excellent crossing was sketchy at best.
So, there are your nominees. Vote for your least favourite using the poll down below and stay tuned for next week's nominees for centre back, which will feature some Scandinavians, a past it Argentine and a King Kenny signing from back in the day.