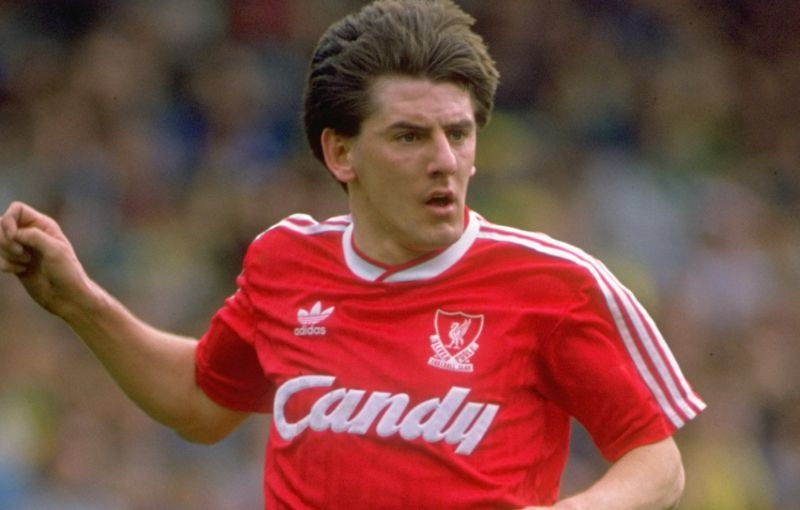 For a long time, the Merseyside derby was known as 'the friendly derby', largely on account of the fact that people would come from the same family and support either team. Mum and dad could be a Red and a Blue, with kids picking one or the other. Grandma might be an Evertonian and grandad a Liverpool fan, with everyone in the house watching the match together. Anfield or Goodison Park would regularly see supporters of both teams sitting next to each other in the stands, cheering on their own team without being harassed by fans of the opposition.
When the two teams played each other in the final of the League Cup in 1984, there was little-to-no segregation enforced at Wembley and fans sat in mixed groups. There were chants of 'Merseyside, Merseyside, Merseyside' in a remarkable display of unity. Quite was has stopped that from being the case is difficult to outline exactly, although Liverpool fans getting English clubs banned from Europe just as Everton qualified to play in the European Cup because of Heysel didn't help, nor did the Reds winning the Champions League in 2005, effectively stopping Everton from playing in it the following season.
Regardless, the friendliness of the Merseyside derby is all but forgotten nowadays. Similarly, the likelihood of a player moving from Goodison Park to Anfield or vice-versa is minute. There are plenty of reasons for that, not the least of which is the difference in quality between the two sides. For a period under Jürgen Klopp the Reds were constantly involved in title challenges whilst Everton were regularly narrowly avoiding relegation. Even so, there have been some players to play for both clubs, either because they moved directly or because they played somewhere else in between.
In actual fact there 28 players that played for Everton before moving to Liverpool, either directly or via another club, and 18 for which the reverse is true. Here is a look at some of the more recognisable names in no particular order:
Nick Barmby: Everton 1996-2000 / Liverpool 2000-2002
Nick Barmby joined Everton in 1996, immediately find himself thrust into a relegation battle. In the end, they survived and actually finished in 15th, with Barmby playing in 25 league games and scoring four goals. He stayed at Goodison Park for nearly four years, playing 116 league games and scoring 18 goals for the Blues.
Liverpool 3-1 Everton, 20th October 2000 🗓️

Nick Barmby ⚽️
Emile Heskey ⚽️
Patrik Berger ⚽️

Barmby's first in Red after crossing the park…pic.twitter.com/hjd29udOeM

— The Redmen TV (@TheRedmenTV) October 20, 2023
He signed for Liverpool in the summer of 2000, becoming the first player of the modern era to 'cross the park' from Goodison to Anfield. He was part of Liverpool's treble winning team in the 2000-2001 season, ensuring he was well-loved by Reds thanks to a goal in the Merseyside derby. He finished his time at Liverpool with eight goals to his name.
Abel Xavier: Everton 1999-2002 / Liverpool 2002-2003
In September 1999, Abel Xavier joined Everton in a deal worth £1.5 million. During the course of his time at the club he played 43 league games but failed to score a goal for the Blues. In January 2002, Liverpool paid £800,000 in order to bring him to Anfield, with the player following in the footsteps of Barmby in playing for both teams in the Premier League era.
Abel Xavier was the last player to transfer between Liverpool and Everton.

— The Liverpool Score (@liverpoolscoore) October 15, 2023
He played the first five games of the season and during his time in a Red shirt he played 14 league games, scoring against Ipswich Town. He also scored against Bayern Leverkusen in the Champions League, but argued with Gerard Houllier, resulting in him being loaned to Galatasaray in January of 2003 and never playing for us again.
Steve McMahon: Everton 1979-1983 / Liverpool 1985-1991
Steve McMahon played for both Merseyside clubs, but will often be thought of most fondly by Liverpool fans. He was born in Halewood and made his way through the youth ranks at Goodison Park, being named the supporters' Player of the Year for the 1980-1981 campaign. For a team, he was even the Everton captain and left for Aston Villa having played 100 league games and scoring 11 goals.
On the 12th of September 1985, Kenny Dalglish, the new Liverpool manager, agreed to give Aston Villa £350,000 to sign McMahon in order to replace Graeme Souness. His first goal for his new club came against his old one, with McMahon scoring in the Merseyside derby. He ended his Liverpool career with 204 league appearances and 29 league goals, winning three league titles and two FA Cups.
Gary Ablett: Liverpool 1985-1992 / Everton 1992-1996
When Gary Ablett left St Margaret's Church of England High School in 1982, he signed on as an apprentice with Liverpool, learning the ropes at the top football club in England. His first appearance for the Reds cam in 1986, but he slowly began to earn a regular place in the side. By the time he left Anfield, Ablett had won two leagues and an FA Cup, with his victory in 1989 coming at the expense of his future club Everton.
When Kenny Dalglish resigned as Liverpool manager in 1991, Graeme Souness arrived to replace him. Souness thought it best to remove some of the old guard, so he sold Gary Ablett to Everton in a deal worth £750,000, with the Scouser having made 147 appearances for the club. He added another FA Cup to his collection in 1995, becoming the only player to have won the competition with both teams.
Peter Beardsley: Liverpool 1987-1991 / Everton 1991-1993
One of the only players who is likely to be claimed by both sets of supporters, Peter Beardsley also played for Manchester United earlier in his career. He joined Liverpool at the same time that the Reds signed John Barnes, working alongside another new signing in John Aldridge to from a deadly partnership. When he departed Anfield, he did so having won two league titles and an FA Cup.
Peter Beardsley was sold too soon, terrible mistake at the time. pic.twitter.com/CHDCoXCmWX

— Davolaa (@Davolaar) October 19, 2023
In 1991 he signed for Everton, with the Blues paying the Reds £1 million for the 30-year-old's signature. He did well for them, playing 95 times and scoring 32 goals during the two years he was at Goodison Park, but never managing to get them any higher than a mid-table finish. He did, though, score for them in a Merseyside derby, being one of only two players to manage that for both clubs.
Kevin Sheedy: Liverpool 1978-1982 / Everton 1982-1992
There is little doubt that Kevin Sheedy will always be thought of more as an Everton player than a Liverpool one, if for no other reason than he only played three league games for the Reds. That was over a period of four years, with Sheedy being unlucky insomuch as he was in the Liverpool team during some of the club's most successful years, leaving with a League Cup winner's medal.
He signed for Everton for £100,000 and went on to make 357 appearance for the Blues, scoring 97 goals. He was at the club for their most successful spell, winning the top-flight title in 1985 and then again two years later. He was also part of their European Cup Winners' Cup success, scoring a goal in the final itself. Named in the PFA's Team of the Year in both of the Blues' title winning seasons, he eventually left to join Newcastle United.
David Johnson: Everton 1969-1972 / Liverpool 1976-1982 / Everton 1982-1984
When Bill Shankly saw David Johnson playing for Everton as a youngster, he was straight on the phone to the Everton manager Harry Catterick, asking him to sell him. Catterick refused, with Johnson going on to score for the Blues in a Merseyside derby. Having made his debut as a 19-year-old, he finished his time at Goodison Park with 49 league appearances and 11 goals, leaving to sign for Ipswich Town. He later returned to Everton directly from Liverpool.
In 1976, Shankly got his way; albeit having left the club two years prior. Johnson was signed for a club record £200,000 and spent hist first season fighting John Toshack and David Fairclough for the right to partner Kevin Keegan in the Liverpool attack. In the April of 1978 he joined Peter Beardsley as being the only player to score for both Liverpool and Everton in the Mersyside derby. It is fair to say his time at Anfield was the more successful, winning four league titles, three European Cups, two League Cups and the UEFA Super Cup.
Don Hutchinson: Liverpool 1990-1994 / Everton 1998-2000
Graeme Souness, having cleared out some of the old guard at Liverpool, needed to bring in some new blood and Don Hutchinson was one of the players that he signed. He arrived Liverpool from Hartlepool United in 1990, going on to play for the Reds 45 times in the league and scoring seven goals. He finished the 1992-1993 campaign as the club's third-highest scorer, with only Ian Rush and Mark Walters scoring more than him.
Having left Liverpool for West Ham United and then the Hammers for Sheffield United, Hutchinson eventually found his way to Goodison Park. Howard Kendall, the Everton manager, was a fan and Hutchinson played for him in the midfield. Despite initially not being liked by new manager Walter Smith, he eventually went on to captain Everton and helped them avoid relegation twice. He was eventually sold to Sunderland for £2.5 million.
Sander Westerveld: Liverpool 1999-2001 / Everton 2006
Another of those players that definitely had a longer association with one club more than the other, Sander Westerveld signed for the Reds in 1999 in order to take over David James as the goalkeeper. He was the most expensive goalkeeper in British football when Liverpool paid £4 million for him, which seemed to be worth it when the Reds conceded the fewest goals in the 1999-2000 season. He played a key role as Liverpool won an historic treble in the 2000-2001 campaign.
Eventually Westerveld was sold to Real Sociedad for £3.4 million, with the writing having been on the wall for him at Liverpool when the club signed both Jerzy Dudek and Chris Kirkland in the same period. He moved from Sociedad to Portsmouth, who loaned him out to Everton for just 28 days when the Blues were suffering from an injury crisis. He made two league appearances for them, becoming perhaps the least deserving player to be on this list.
Conor Coady: Liverpool 2011-2014 / Everton 2022-2023
Conor Coady is one of the few players on this list who might rival Sander Westerveld in terms of being the least deserving to be on it, largely because we're not going to give Andy Lonergan a big write-up considering he didn't actually play for either team. Coady came through the Academy system at Liverpool, spending three years at the club but only making one league appearance for the Reds.
🎙️ Conor Coady on Everton: "The club needs clarity from top to bottom, it needs a direction." #EFC pic.twitter.com/7F2pPSSBBH

— TheMightyBlues (@MightyBluesYT) October 17, 2023
He left for Huddersfield Town, moving from there to Wolverhampton Wanderers where he made 273 league appearances before being sent on loan to Everton for the 2022-2023 season. He played for them 24 times in the Premier League, helping them to avoid relegation and thought that he had scored the winning goal in a Merseyside derby, only for it to be ruled out by the Video Assistant referee as he was offside, curtailing his excessive celebrations.
Rafael Benitez
Ok, the Spaniard didn't play for either club but it is impossible to talk about people who had a career at Anfield and Goodison Park without mentioning him. Benitez left Valencia to join Liverpool as manager in 2004, leading the club to its first Champions League trophy of the re-branded era before immediately following that up with an FA Cup win. He also mounted a title challenge in 2008-2009, leaving the club to be replaced by, of all people, Roy Hodgson in 2010.
Rafa Benitez won more Champions League knockout ties as Liverpool manager (10) than games as Everton manager (7).

— Richard Jolly 🇺🇦 (@RichJolly) January 16, 2022
Benitez has never been the kind of manager to care much about what anyone thinks of his choices, which will doubtless explain why he was happy to become interim manager of Chelsea after having constantly locked horns with the London club when José Mourinho was their manager. It will also explain why he didn't think for very long before heading to Goodison Park, in spite of the fact that Evertonians were very against him doing so. He arrived on the 30th of June 2021 and was sacked on the 16th of January 2022, being in charge for just six and a half months.
All Players To Have Played For both Liverpool and Everton
Here is the full list of players that played for both Liverpool and Everton during their playing career:
Billy Scott
Darren Potter
Steve McMahon
Neil McBain
David Johnson
Edgar Chadwick
Andrew Hannah
Thomas G. Wylie
Duncan McClean
Patrick Gordon
John Whitehead
Fred Geary
Alex Latta
Abe Hartley
David Murray
Don Sloan
Arthur Berry
Tom Gracie
Bill Lacey
Frank Mitchell
Jack Balmer
Bill Harthill
John Heydon
Tony McNamara
Dave Hickson
Nicky Barmby
Abel Xavier
Gary Ablett
Peter Beardsley
Alan Harper
Kevin Sheedy
David Johnson
Johnny Morrissey
Jimmy Payne
Dick Forshaw
Harold Uren
Benjamin Howard Baker
David Burrows
Don Hutchinson
Dave Watson
John Gidman
Sander Westerveld
Arthur Berry
Andy Lonergan
Conor Coady