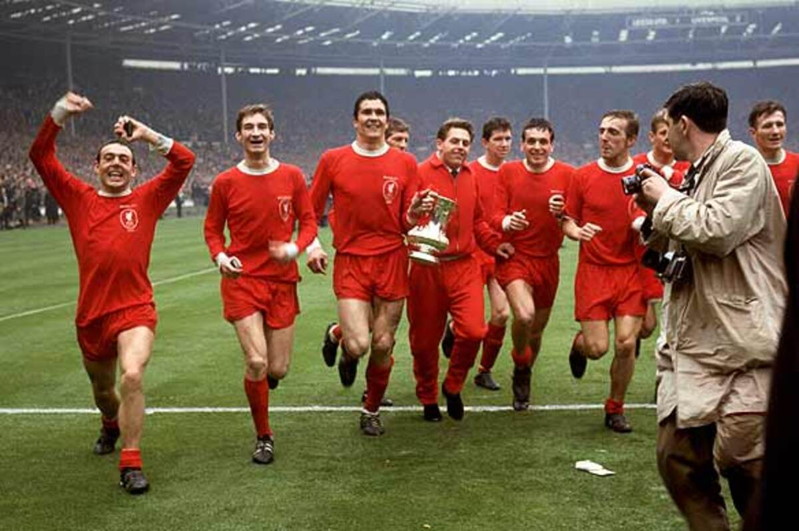 One of the most famous teams in world football has a nickname, just like they all so often have these days.
And Liverpool's is The Reds.
But why and where did this name originate from?
Well, you're going to be mind-blown when you hear the backstory.
Dressing like Everton
In the current day, Liverpool resembles the red half of the city, with Everton representing the blue.  Most Liverpool Apparel is logically red or white these days. But it did not always used to be that way.
Everton were founded in 1886 and played at Anfield.
How mad is that? Yes, they PLAYED at ANFIELD.
But in 1892, President John Houlding, who owned the famous ground, had a bust-up with the Everton owners over the rent.
He had cheekily put the rent up from £100 to £250 which was A LOT of money in those days.
This led to the breakaway of Everton moving to Goodison Park and Anfield without a team.
So, Houlding founded Liverpool FC, and he wanted the Everton name originally but thank goodness he wasn't able to get it, and so the adventure or should I say, the football love story, began.
Although, ironically enough, Everton wore a blue and white chequered shirts to begin with but quickly traded them for a ruby red, much like the Liverpool of today.
Houlding and his new team stumbled upon the old kit and donned it during their inception to mark their first ever strip, which considering the stark contrast to their famous, famous red of today, really is some story.
The move to red
But that didn't last long.
Four years later in 1896, Liverpool moved to red shirts, and big white shorts.
And of course, Everton abandoned their attempt at red, and moved to light blue shirts and white shorts in 1892, before the 1901 move to dark blue shirts and white shorts.
This has been consistent for The Toffees for over 120 years.
Meanwhile, for Liverpool, it then took them half a century later for the nickname, The Reds, to truly take off, which it did in 1965.
The tale goes that legendary manager Bill Shankly was the founder of the all-red initiative.
According to Ian St John, an Anfield icon at the time, who sadly passed in March 2021, said in his autobiography.
"Shankly thought the colour scheme would carry psychological impact – red for danger, red for power," he said.
"He came into the dressing room one day and threw a pair of red shorts to Ronnie Yeats, and said: 'Get into those shorts and let's see how you look…Christ, Ronnie, you look awesome, terrifying. You look 7ft tall,'," recalled St John.
November 1964. Liverpool wear the all red for the first time in a 3-0 win Vs Anderlecht. Shankly walked into the dressing room one day: "Get into those shorts" he said. "Christ, Ronnie, you look awesome, terrifying. You look 7ft tall." And so an iconic kit was born. #Manager #LFC pic.twitter.com/IG5OmSEKDu

— "YNWA" The Story of Liverpool FC (@LFCHistoryShow) January 18, 2021
Yeats, the then Liverpool skipper at the time, who would go on to make 454 appearances, feared he was going to get a hiding from the boss.
"We'd just finished training and I was on the way home when Shanks called me back.
"My initial reaction was that I'd done something wrong. Either that or I was getting a pay rise! Anyway, it was neither.
'I want you to try on this all-red strip,' he asked me. So, I went into the dressing room and put it on," said Yeats.
"I came out and the boss was nowhere to be seen, so I went down the steps towards the players tunnel and saw him in the middle of the pitch with Bob Paisley.
"I made my way towards them and as I got closer, Shanks came out with that immortal line about me looking 7ft tall. 'We're going to play in all-red from now on'," Yeats recalled.
The Shankly initiation
On the 25th November 1964, Liverpool donned the all-red kit for the very first time.
And it worked a treat for them immediately, as they swept past Belgian side Anderlecht 3-0 in the European Cup.
Goals from St John, Roger Hunt (who also sadly passed in September 2021), and Yeats gave Shankly's side a comfortable victory.
They would go on to wrap up the second leg but eventually fell to Inter Milan in the semi-finals.
It was then the 1965-66 season that Liverpool wore the all-red for the first time, and have never looked back since.
The media and supporters then coined Liverpool: The Reds.
Shankly, the man behind the concept, also looked back fondly on the history making kit change.
"We used to play in white shorts with red stripes, white stockings with red tops and white piping on the jerseys.
"But we switched to all red and it was fantastic. The introduction of the all-red strip had a huge psychological effect," said Shankly.
"I went home that night and said to my wife Ness: 'You know something… tonight I went out at Anfield and for the first time there was a glow like a fire burning.
'Our game against Anderlecht was a night of milestones. We wore the all-red strip for the first time.
'Christ, the players looked like giants. And we played like giants,'" he said proudly.
History-Making Reds
An era of unprecedented dominance soon followed.
Six months after the kit change, Liverpool won the FA Cup for the first time, as goals from Hunt and St John secured a 2-1 victory against future England manager, Don Revie's Leeds United.
Shankly called it his "greatest moment" in management at the time.
The Glenbuck native would go on to win three First Division Championships, two FA Cups, four Charity Shields and the UEFA Cup.
This was then taken to the next level by successor Bob Paisley who gave The Reds enormous glory across the board.
Six League titles, three European Cups, three League Cups, six Charity Shields, one UEFA Cup and one Super Cup.
Their success dried up somewhat after, with 1990 being their last league title for 30 years.
The 1995 FA Cup being their sole source of silverware in the 90s.
But the 2001 treble winning Gerard Houllier side won the League Cup, FA Cup and UEFA Cup, to give Liverpool a tremendous year.
Rafa Benitez then won the Champions League in 2005, in his first season with a stunning win against AC Milan, coming back from 3-0 down to draw 3-3 and win 3-2 on penalties.
And then of course, current incumbent Jurgen Klopp won the 2019 Champions League and brought the title back to Anfield, with a phenomenal Premier League points totals in recent seasons nearing 100 points.
So whichever generation you're from, The Reds have made history and continue to do so.