Please refresh page for updates
Anfield, Liverpool

 
 Liverpool 3-0 Manchester City
22:35PM: That brings an end to today's Matchday Live Blog, there will be plenty of post-match content and analysis across the Friends of Liverpool site in the coming days. It was a remarkable night at Anfield where the clean sheet for Liverpool was welcomed just as much as the three goals. The match certainly lived up to expectations.
22.30PM: Headlines from the Telegraph, the Times and the Guardian.
22.20PM: The highlights of Jurgen Klopp's post-match press conference:
"The first half was brilliant. It was how football should look. We knew about City's quality but also about our quality as well. If we could control the game better against a team like Man City and not give the ball away we would be closer to them in the league."

"We lose one player to injury [Salah] and another – the captain [Henderson] – to a yellow card so it does not feel good. Mo said he feels good but we'll have to see about that."

"The result is not what we expected but we needed to play more football in the second half. They did not have a lot of chances but we didn't play much football ourselves. It is only half-time."

"The first half was close to perfection, but the return leg will require a lot of energy."
22:11PM: Pep Guardiola has just spoken to the media. Here are some lines from the press conference.
"It was a mistake for the first goal, the second time they scored a fantastic goal. In the second half we reacted and we played well. We needed one goal but could not score it. We cannot deny it is tough [to come back]. We have 90 minutes more."

"Nobody believes we will go through. We will convince ourselves tomorrow."

"I believe a lot in my team. They've shown me lots of good things over the season. We have 90 minutes more and we're going to try it. United is coming at home then we have three days to prepare."

"The clean sheet is so important for them. We are going to see how the players react. Accept the defeat, accept Liverpool being clinical and precise and we'll see what happens next week."
21:45PM: Press conferences to follow.
21:44PM:
7 – James Milner has seven assists so far in the Champions League this season; three more than any other player. Interesting. pic.twitter.com/n44cPahWVL

— OptaJoe (@OptaJoe) April 4, 2018
21:41PM:
0 – Manchester City failed to direct a single shot on target in a game for the first time since 26th October 2016 (v Man Utd in the League Cup). Blunt.

— OptaJoe (@OptaJoe) April 4, 2018
21:40PM:
Most goals scored by Liverpool against a single opponent since Klopp's appointment in Oct 2015:
17 MAN CITY, Watford, Arsenal
15 West Ham
14 Stoke, Southampton

— Sky Sports Statto (@SkySportsStatto) April 4, 2018
21:37PM:
Enjoy that, Liverpool fans? 💪#UCL pic.twitter.com/S7kWI6JF0J

— UEFA Champions League (@ChampionsLeague) April 4, 2018
21:35PM: 
Allez Allez Allez#LIVMCI #UCL pic.twitter.com/Oh2UHdBfey

— Liverpool FC (@LFC) April 4, 2018
90+3′: It's three goals and a clean sheet for Liverpool as they take a strong grip on this tie.
90′: An additional three minutes are to be played
84′: Sane plays the ball across the area and Jesus slots it past Karius but the goal is disallowed for offside. The search for the away goal carries on.
78′: Frustration is starting to tell on City's part – yellow cards are being picked ip all over the place. Liverpool are seeing this game out with relative ease
75′: City wre determined to score this crucial away goal. A mixture of poor finishing and a resolute Liverpool defence is preventing it.
70′: City are struggling to break down this Liverpool defence. Alexander-Arnold has made one superb recovery run to intercept Sane.
60′:  Klopp urges his side to up the intensity, they're sitting quite deep
55′: City are starting to rack up the chances -Sane is beginning to insert his influence but Karius is yet to make a save
51′: Groans and then applause fill the Anfield air as Salah limps off injured – Wijnaldum replaces him
45′: Players are back out on the pitch ready for the second period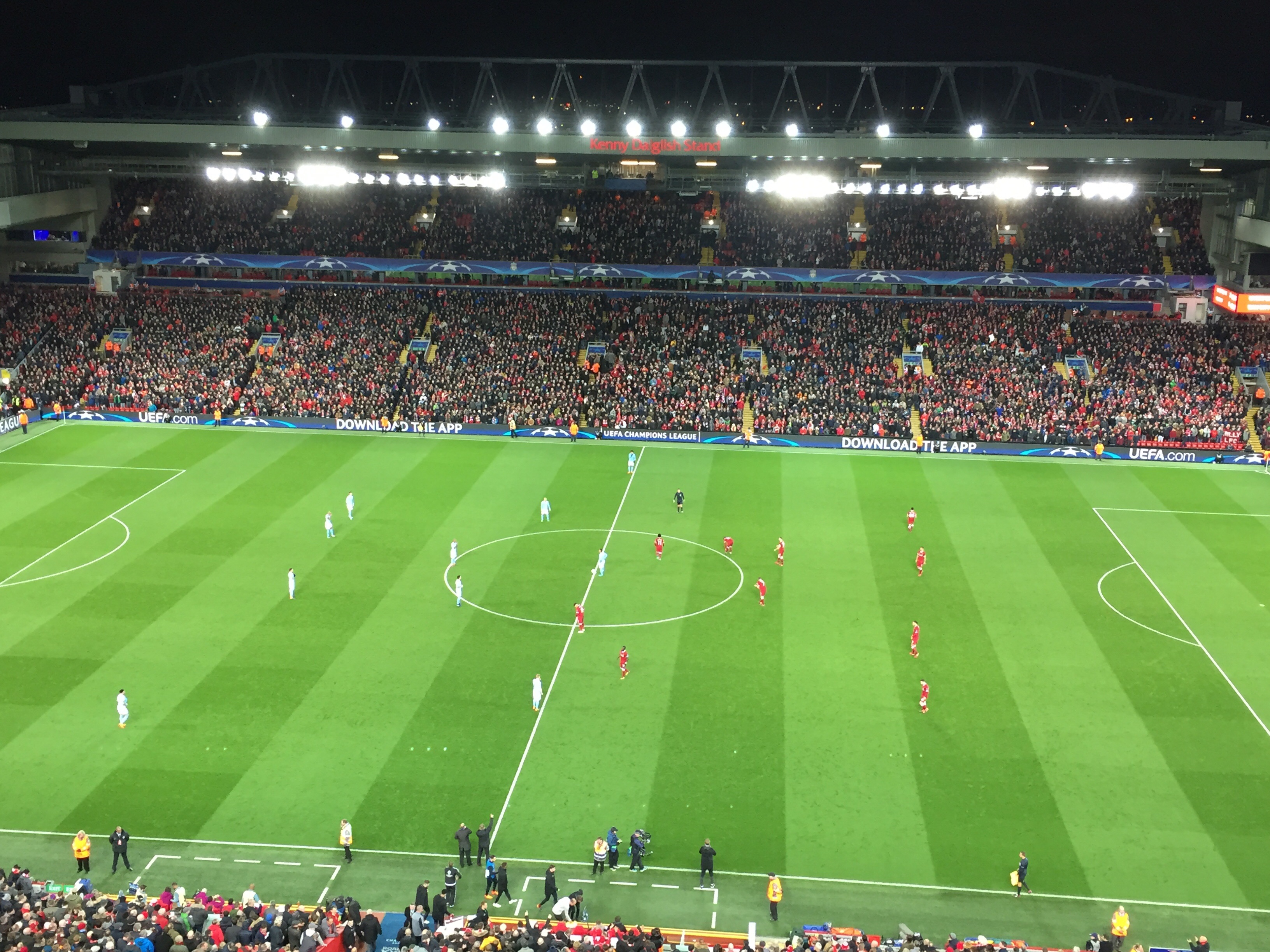 45+2′:Whistle blown for half time. Quite the first half for Liverpool.
45′: City have had more possession in the last 10 minutes. There will be 2 minutes of stoppage time
36′: City are trying to slow the game down but to no avail – the confidence running through these Liverpool players is immense
30′: Goal!! 3-0. Mane heads in but picks up an injury in the process
25′: City are allowing Liverpool a lot of space – Salah and Co are having a great time. Jesus is yet to have a meaningful touch
20′: Goal!! 2-0. Oxlade-Chamberlain with a wonderful strike from outside the area.
19′: Liverpool are pressing well an the front three are showing plenty of energy. Firmino's movement in particular is causing City problems.
12′: Goal!! 1-0. Who else but Salah pushes the ball past Ederson
11′: City are dominating the left side with Sane
5′: Noisy atmosphere at Anfield but City are controlling the early exchanges. Liverpool relying on counter
0′: Kickoff
19:43PM: This evenings officiating team is led by Dr Felix Brych of Germany
#UCL anthem at Anfield pic.twitter.com/Q58ZTYdpUU

— Oliver Miller (@oliver_miller) April 4, 2018
1940PM:
Anfield on a @ChampionsLeague night = pretty special#LIVMCI #UCL pic.twitter.com/WYzkjz8rdS

— Oliver Miller (@oliver_miller) April 4, 2018
19:35PM: All set
19:30PM: 
19:15PM: Both sides are on the pitch warming up.
19:00PM: 45mins until kickoff
#LIVMCI pic.twitter.com/1iaGqyz6vA

— Oliver Miller (@oliver_miller) April 4, 2018
18:45PM: Team news is in:
Liverpool's starting XI: Karius; Alexander-Arnold, Van Dijk, Lovren, Robertson; Oxlade-Chamberlain, Henderson, Milner; Salah, Firmino, Mane.
Manchester City starting XI: Ederson, Walker, Kompany, Otamendi, Laporte, Fernandinho, Gundogan, De Bruyne, Silva, Sane, Jesus.
18:40PM: So have Manchester City…
@ManCity team bus arriving at Anfield battling through smoke and a number of renditions of #YNWA #UCL #LIVMCI pic.twitter.com/vS89EYJfE3

— Oliver Miller (@oliver_miller) April 4, 2018
18:30PM: Arrived at Anfield
17:20PM:
One to watch at Anfield?

Leroy Sané has scored 3 goals in 2 games against Liverpool this season. 🔥🔥🔥#UCL pic.twitter.com/vOkjAnSnCv

— UEFA Champions League (@ChampionsLeague) April 4, 2018
17:15PM: Some more pre-match facts and stats…
The Reds are the top-scoring team in the Champions League this season with 28 goals. The record for an English team in a single Champions League campaign is 32 by Manchester United in 2002-03.
Of the eight remaining sides in this season's competition, Liverpool (25 years 311 days) and Manchester City (26 years 134 days) have had the youngest average starting XIs.
Manchester City winger Leroy Sane has scored three goals in his two appearances against Liverpool this season.
Liverpool forward Roberto Firmino has been involved in 10 goals (seven goals, three assists) in the Champions League this season – only Real Madrid's Cristiano Ronaldo has been involved in more (15).
16:15PM: Some match facts ahead of tonight's encounter…
This is the 10th Champions League knockout tie between English clubs in the Champions League, six of these have involved Liverpool, including this tie.
Liverpool and Manchester City will meet for the 179th time, but this is their first meeting in European competition.
Klopp has won five matches against Guardiola – more than any other manager (excluding shootouts). Two of these victories have come in four attempts as Liverpool boss.
Including qualifiers, this will be the Reds' 11th Champions League match this season – they are unbeaten in their 10 so far, winning six and keeping a clean sheet in five.
Liverpool have not lost a home match in European competition since October 2014 – against Real Madrid – and are unbeaten in 14 European games at Anfield.
14:30PM: It's a wet day in Liverpool
Grey skies above Merseyside – rain is forecast right through until kick-off.@ChampionsLeague @LFC @ManCity pic.twitter.com/KQw4IBJNhy

— Oliver Miller (@oliver_miller) April 4, 2018
13:15PM: 
🗒️ A comprehensive lowdown on Pep Guardiola's side from a Cityzens regular.

The view from City ➡️ https://t.co/utaZwk0Byz pic.twitter.com/9zBCW8W9C5

— Liverpool FC (@LFC) April 4, 2018
13:00PM: Jurgen Klopp, Andy Robertson, Pep Guardiola and Kevin De Bruyne spoke to the media yesterday at Anfield. Here are the highlights from the press conferences.
Jurgen Klopp on injuries…
"Joel Matip is out for the rest of the season. It's obviously very serious. I haven't watched the incident back, but he'll be back for the start of pre-season. Adam Lallana has a hamstring injury, which obviously means he's unavailable. Emre [Can] will be very close for tomorrow. It will be very difficult, but we will see. Ragnar Klavan and Joe Gomez are both unavailable."
Jurgen Klopp on this evening's opponents…
"We need to be at our best. In a few moments [in the 4-3 against City in January] we were at our best. It's about doing it again and playing at 100% again. They're the best team in England, if not the best team in Europe. It's a big game. Hoping for a clean sheet against Man City doesn't make much sense. It's not as if there's a way to defend against them for 95 minutes. You need a fantastic goalkeeper, a fantastic defence and fantastic organisation."
Jurgen Klopp on his side's approach…
"I like difficult tasks, I like difficult jobs. For a manager it's the most interesting – what to do and how to prepare your boys as best as possible, mentally as well as physically. It's a big opportunity and we'll try everything to make it happen. City aren't perfect, but it's not possible [to be perfect]. This is not the right moment to talk about weaknesses, though. It's about showing them respect – that's what we'll do."
Andy Robertson on the Anfield atmosphere…
"Everyone knows that Liverpool fans take to the Champions League. They take it up a level in this competition, and I'm sure that'll be the case tomorrow night. Hopefully we can use that to our advantage."
Andy Robertson on this evening's opponents…
"Man City are a joy to watch at times. As a defender you need to be aware of where your man is and where your man is trying to get to. Hopefully we can be first to get tackles and blocks in, but hopefully we can attack as well."
Pep Guardiola on Sergio Aguero…
"Sergio Aguero is in Manchester – he didn't come. He's been injured for the last two weeks and isn't fit. Fabian [Delph] is available. I have a plan."
Pep Guardiola on this evening's opponents…
"I'm not so arrogant not to think about Liverpool. But I can tell you we won't defend for 80 minutes and try and take our one chance. Why change our approach when it's been working so well? We try to respect them while trying to impose our game."
Pep Guardiola on Man City's attacking trio…
"We're so happy with Jesus, Sane and Sterling. You have to experience these games to get better. Why should I doubt their ability? They have done very well this season. When things don't go well, it's a blessing for the future. They are so good. So good."
Kevin De Bruyne on Mohamed Salah…
"It's unbelievable what he's done. Nobody expected him to score as many goals at the start of the season. Liverpool's front three are so strong, but what he's done is incredible."
Kevin De Bruyne on Man City's defeat at Anfield in January…
"We had a ten-minute spell when we lost control of the game. We tried everything to get something out of the game, and we almost got something out of it. It was a crazy game, but for the neutral it was beautiful."
12:00PM: Ahead of this evening's massive Champions League clash at Anfield, there has been plenty of buildup in today's papers.
'Your time is now' is the headline in this morning's Liverpool Echo.
Paul Joyce in the Times also highlights Jurgen Klopp's desire for Liverpool to 'be brave and attack city.'
There is also a good graphic in the Times that highlights Sergio Aguero's influence on Manchester City this season and why he will be a big loss this evening.
This is how the Times anticipates both sides to line up.
10:00AM: Welcome to the Matchday Live blog for Liverpool's Champions League quarter-final match against Manchester City. I am your host reporter Oliver Miller and will bring you all of the pre-match buildup from Anfield along with in-game analysis and then plenty of post-match reaction. You can get involved on twitter @oliver_miller and @friendsoflfc.