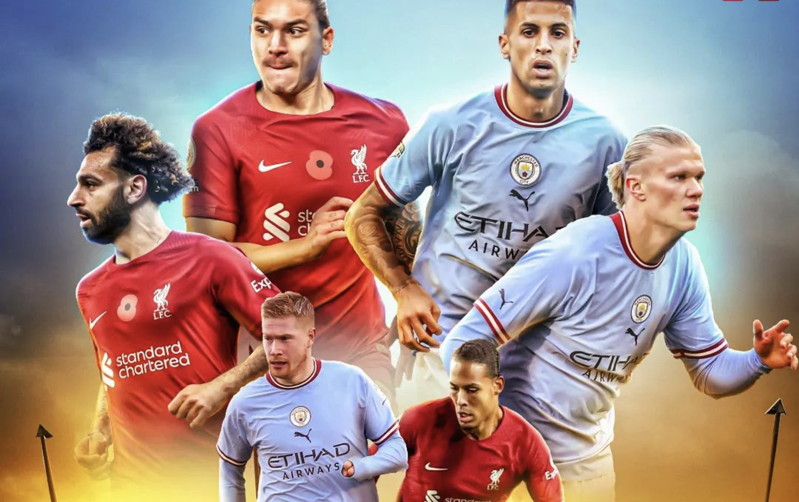 Jurgen Klopp's Liverpool return fresh from the international break, but face a major test against Pep Guardiola's Manchester City this Saturday lunchtime.
In recent seasons, the two juggernauts have gone toe-to-toe for the Premiership title.
This match would have been a winner takes all to go on and win the league.
Now Liverpool have experienced a fall from grace, having just last season pushed City to the final day, as the title race went down to the wire.
The Reds sit in sixth, and are not a threat to the Sky Blues' title hopes.
Arsenal have come out of nowhere to sit top of the Premiership with an eight-point lead, as City lie in second.
Although, this will still be a tasty encounter nonetheless.
Both sides need the points, and the Guardiola-Klopp rivalry, a battle between two of the best managers the Premier League has ever witnessed, is enough of a reason to be excited for this one.
And in anticipation of it, I am analysing the City and Liverpool starting line-ups and seeing which player is better in each position, to form an ULTIMATE XI.
Let's go for it shall we.
In Goal
Now this is a tough one. A very tough one.
Ederson and Alisson are compatriots, but it is the later who holds the number one jersey for the Samba stars.
But even last season, there was nothing separating the pair, as they joint won the Premier League Golden Glove award with 20 clean sheets apiece.
That is how good and consistent they are.
It's easy to say, 'oh you're only choosing Alisson due to the Liverpool bias', but he is a superb goalkeeper, and, for me, he is overall the better goalkeeper.
He also brings more to the team with his sheer leadership qualities and humility.
Alisson is never arrogant to think he has saved the team and bailed them out on a number of occasions.
In fact, he is always grounded with a modest mindset.
It should also be noted that City's defence is better than Liverpool's, meaning there is a lot more pressure on Alisson, and he handles it so well, every time.
So, that's why Alisson gets the nod in the Ultimate XI, and his super saves only showcase that.
Decision: Alisson
Defence
Right-Back
City did have Joao Cancelo before his surprising transfer deadline day move to Bayern Munich.
This did raise some eyebrows with reports of a fallout with The Cityzens chief.
So, you could argue they are weakened in this area after the loss of arguably one of the best full-back's in the league.
Now it is, Kyle Walker who's back as their number one right-back. Although, Manuel Akanji can fill in from centre-back.
Defensively, Walker, is better than Liverpool's Trent Alexander-Arnold, for sure.
But the scouser is much younger and offers such a delightful attacking array of skills, with his pace, quality crosses and delivery at set-pieces.
That's why, although defensively suspect, from an attacking point of view, it has to be TAA.
Decision: Alexander-Arnold
Centre-back
City have a plethora of options in: Akanji, Rúben Dias, John Stones and Aymeric Laporte.
Liverpool on the other hand have the colossal Virgil van Dijk, Ibrahima Konaté, Joel Matip, Joe Gomez and Nat Philipps.
I'm going to go with van Dijk and Laporte.
The Dutchman is one of the best in world football, with his towering presence, speed, leadership qualities, last ditch tackling, as well as chipping in with some vital goals from time to time.
And I've gone with Laporte, as he is a solid rock steady defender. He too, can come up with the odd goal, but he is very reliable and makes few mistakes.
Dias is good make no mistake, as is Konaté, but they just miss out.
Decision: van Dijk and Laporte
Left-back
Nathan Ake is currently the man occupying this position for Pep's City.
Although predominantly a centre-back, he can play on the left.
The Netherlands defender is good, but I wouldn't say he is ULTIMATE.
And in this instance, I am going with Andy Robertson, simply as he is a natural full-back and again, his leadership, endurance and overall quality, sees him into the Ultimate team.
Decision: Andy Robertson
Midfield
Wingers
If I have been kind, and Liverpool have dominated this article so far, well then City are about to dominate it.
Riyad Mahrez has always had his admirers and he does the job so well.
He's fast, a good passer of the ball and can provide the important goal when supporting the attack.
Liverpool NEED a player like him.
Klopp has just youngsters Harvey Elliott and Fabio Carvalho to call upon, both, are still in their infancy and continuing to improve, and establish themselves in the first team.
So, I'm also going to plump for Bernardo Silva.
On his day, the Portugal international is one of the best and a really good player to have in your team, with the experience he brings to the table.
I think even Klopp would approve of this one, and again, Liverpool need someone like him.
Decision: Mahrez and Bernardo Silva
Central Midfield
I've just realised, I've gone with a standard 4-4-2 for simplicity, which neither Klopp, and especially Pep, would not be happy with me for this.
But I'm going with Rodri, who is probably the best out and out holding midfielder in the league.
He was a superb understudy to Fernandinho and now the real deal in replacing the City hardman.
They signed Kalvin Philipps in this position, who has been a major disappointment, and Pep even publicly criticised claiming he had returned to training having put on weight.
This just about sums up his fledgling City career.
Liverpool, meanwhile, have captain Jordan Henderson, James Milner, Naby Keïta and Alex Oxlade-Chamberlain in this department.
In all due respect to the Anfield midfield, these aren't names to frighten the best teams in the world.
There is however, one in Thiago Alcântara, who is a quality passer of the ball, and City were rumoured to have held an interest in before Klopp swooped.
But, I have to go for Kevin De Bruyne in this department.
It has to be said, that the German is a known admirer, and the Belgian grew up supporting Liverpool, so this would be a transfer for the ages, if it ever happened.
He is one of the best to grace the Premier League, with his sheer engine and Xabi Alonso passing ability.
He has incurred more injuries over the years but he is by far and away the best midfielder that City has.
Decision: Rodri and De Bruyne
Strikers in Attack
Surely this has to be an EASY one.
City can call upon Erling Haaland, Julián Álvarez, Jack Grealish and the currently injured Phil Foden.
They did have Gabriel Jesus and Raheem Sterling before they were offloaded to Arsenal and Chelsea respectively.
They now look light in this area, but Haaland is a goalscoring machine and already has 28 Premier League goals, and 42 strikes in all competitions which is INSANE.
It is near prime Lionel Messi, Cristiano Ronaldo and Robert Lewandowski numbers.
So, I can't not put the deadly Norwegian goal poacher in.
While Álvarez is an enormous talent fresh off winning the World Cup alongside his childhood idol Messi.
Liverpool have Mohamed Salah, of course, and Roberto Firmino, Cody Gakpo, Darwin Núñez and Diogo Jota.
All good players, and especially Bobby Firmino, but when combined with City it goes to another level.
Gakpo has made a positive start to his Anfield career, and those inside the club believe Núñez will become one of the best strikers in the world, if given time.
But Salah is in a class of his own and was unlucky not to win the Balon d'Or in the past.
He is now the club's all time record Premier League goalscorer and is so prolific that he consistently delivers year in, year out.
The Egyptian has also firmly established himself as one of the best strikers in world football.
Liverpool's new attacking stars must now look to his experience and success if they are to become even part of the player he has become.
Now with Firmino departing, and Sadio Mane having done the same, he is now the old guard up front and one that the team relies upon, not just for goals but also psychologically as a team.
Decision: Haaland and Salah
Final Conclusions
It almost felt like I was constructing a fantasy league team, except that I had only City and Liverpool to choose from.
Alisson is a contender for the golden glove virtually every season and he is such a safe pair of hands, that Liverpool's performances would not be the same without him, such is the amount of solidity he gives his teammates.
Points are won and saved on his watch such is his importance.
Trent Alexander-Arnold and Andy Robertson are the Liverpool full-backs bossing this Ultimate team on both defensive wings.
Their attacking prowess and ability to own that position week in week out for years gives me the confidence to choose them.
In central defence, van Dijk and Laporte offer a huge shield to protect the goal against opposition attacks.
Midfield sees Rodri offer further protection over the back four, whilst De Bruyne is able to roam forward and create attacks with his wand of a left foot, although he can also use his right just as well.
Multitalented to the max.
On the wings, City complete this midfield with Mahrez and Bernardo Silva offering more attacking weaponry.
The strike force is made up of a dream duo of Salah and Haaland, who will burst the back of the net and are capable of winning a game on their lonesome.
I'm super happy with this team. Who would you pick in yours?
And let's hope for an unlikely Liverpool triumph on Saturday at the Etihad.