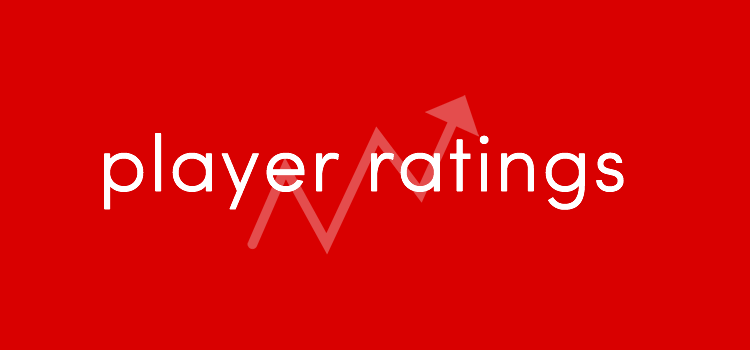 Liverpool
Simon Mignolet – 6
Although conceded 5 goals, was hard to pinpoint ultimate blame when he was left so exposed.
Trent Alexander-Arnold – 4
The teenager's strengths are attacking and technique but his defensive frailty was apparent and exploited.
Joel Matip – 4
Failed to take part in the match – absent as De Bruyne played in Aguero for the opener and was not close enough to Jesus for the second.
Ragnar Klavan – 4
Replaced Lovren for this match and possibly Klopp missed a trick by not using a mannequin instead of him.
Alberto Moreno – 5
Like Trent, main strengths are attacking and so City's all-star strikers were buoyed by his invisibility in defensive situations.
Georginio Wijnaldum – 4
Allowed City's midfield too much time and space and never had any meaningful possession.
Jordan Henderson – 5
Liverpool's captain exerted little grip on proceedings and gave away possession for City's opener.
Emre Can – 4
Never got into the game and his most memorable moment was a poorly executed free-kick on the edge of the City penalty area.
Mohamed Salah – 6
Playing between Mendy and Otamendi, every one-on-one promised a goal, only for Salah's decision-making to let him down. Guardiola did perceive him as a threat and thus switched Otamendi from left- to right-side of defence at half-time.
Roberto Firmino – 5
Did not have many chances but did escape from Danilo only to shoot when a pass could have brought a goal when the scores were still level.
Sadio Mane – 5
Had looked lively before being sent off by referee Moss for serious foul play.
Manchester City
Ederson – 7
The young Brazilian's game ended with Mane's challenge but did manage to take a seat on the bench to see his side complete the rout in which he had impressed whilst playing.
Danilo – 5
Looked quite nervy and unconvincing playing at centre-back during the first-half.
John Stones – 5
Was tested by Liverpool's early attacks and never really exhibit his passing abilities.
Nicolas Otamendi – 3
Could not cope with Salah and was lucky not to concede a penalty and brake Mane's ribs in the first-half.
Kyle Walker – 7
Enjoyed running head-first at Moreno and his physicality enabled him to cover the whole of the left side.
Fernandinho – 5
City's only specialist central midfielder directed the game and played a wonderful pass to set up the third goal.
Kevin De Bruyne – 8
Head and shoulders above everyone else on the pitch – was gifted time and space by Liverpool's defence and midfield and used them delightfully by creating throughout.
David Silva – 7
A vital cog in City's attack – conducting the passing that enabled City to exploit the gaps in Liverpool's defence
Benjamin Mendy – 6
Was strong when attacking against Alexander-Arnold and benefited from the free space left by Mane but did not help his defensive partner, Otamendi, when Salah was attacking frequently early-on.
Gabriel Jesus – 8
Scored twice and had another disallowed but perhaps more importantly showed that he was capable of playing as a duo with Aguero.
Sergio Aguero – 7
Opened the scoring with a well-timed run and calm finish around Mignolet and also set up Jesus for City's third.