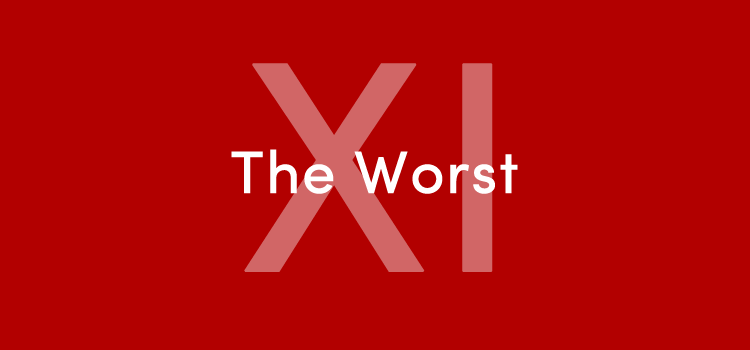 Welcome back to the penultimate edition of the Worst XI and it's beginning to become that time where I get all wistful and thank you for reading etc. while you question quite how I've been allowed to keep this going since early May.
But I digress because we have incredibly important matters to attend to – we must complete the XI. Last week, I revealed that Iago Aspas had finished second in the voting for the strikers which leaves just the 'winner' of the vote to be revealed. Here are the results:
1. Sean Dundee      62%
2. Iago Aspas          12%
3. Andriy Voronin       9%
4= Anthony Le Tallec   6%
4= Andy Carroll          6%
6= David N'Gog          3%
6= Fabio Borini          3%
Yes, in the least surprising result possible, Sean Dundee 'wins' the vote by the proverbial country mile and is the final member of our Worst XI. So, just why is he remembered so poorly? Let's find out…
"Berti, we need him"
Born in Durban, South Africa, Dundee would find his young footballing career taking him to Germany in the early 1990s. He would earn himself a move to Bundesliga side Karlsruhe where he'd score 33 goals in two seasons at one point.
In Germany, he was a star in waiting and the Germans were insistent he play internationally for them. They were so close to losing out on their man ahead of their friendly with South Africa in December 1995. That is right up until Dundee decided minutes before kick-off that he didn't fancy it and left. He would miss South Africa's successful AFCON tournament the following month and he'd get his German citizenship not long after.
Dundee's call-up never did come as injuries and Karlsruhe's relegation meant that he was looking for a way out in 1998. He found it on Merseyside.
Party Man
Roy Evans and Gerard Houllier would bring Dundee to Anfield with Robbie Fowler injured for the opening months of the 98/99 season for a cool £1.8 million. Dundee would big himself up, claiming he was as quick as Michael Owen and that he'd be successful.
Even with a missing Fowler though, Dundee would see basically no first team action whatsoever. Part of the issue was that Dundee was an abomination of a player. He was so slow that fans who saw his fleeting glimpses of first team football reported that he ran back in time whenever there was a loose ball while his physical presence we'd been promised was more the fact that he would physically show up rather than any kind of strength or stature.
Most of his lack of game time stemmed from something a little more worrying. Roy Evans would tell LFCHistory.net that he regretted signing Dundee because he did what he wanted and never listened. The concerning part of that was that it included going out drinking the night before a game. In fact, there are rumours that Dundee would turn up on a Saturday in yesterday's clothes, stinking of alcohol and demanding to know why he wasn't playing. Worse still, talk of the time also said that he drove around Liverpool looking for female companionship as well which is hardly a great image for a footballer to have.
By the time Evans left, Dundee was already halfway out the door. Houllier exiled him to the reserves where he sat waiting for a move. One turned up from an unnamed German side which was scuppered by Dundee asking what the nightclubs in the city were like. The buyers ran faster than Sean Dundee could think about running. He would bitterly recount his exile too saying that he had no clue why he wasn't wanted by the club. Maybe it was the drinking and the fact he didn't even start any of his five Liverpool appearances.
Dundee would eventually leave for Stuttgart in 1999 with few fond farewells and a legacy of absolute trash at Anfield. And it's for that reason that Sean Dundee rounds off our Worst XI.
Next time out, we finish the entire series with the man in charge of this footballing atrocity.