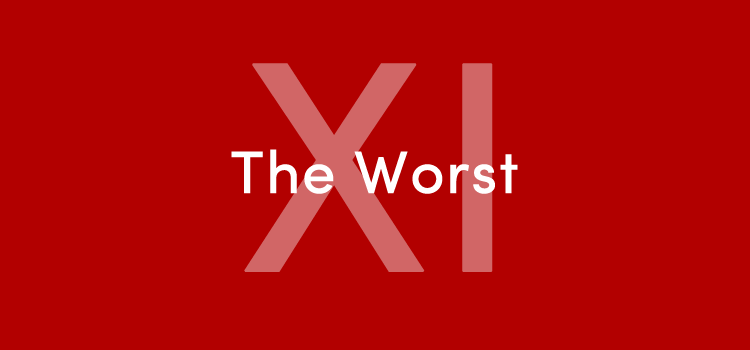 They say all good things must come to an end. Fortunately, for everyone that reads Friends of Liverpool, bad things also must come to an end and, alas, we have reached the final stop on our journey through the murky past of Liverpool Football Club. Unfortunately, that stop may just be the worst one of all – the strikers.
Liverpool have been blessed with some truly wonderful strikers over the years but, as these men show, not every goal-getter gets goals. Especially wearing the red of Liverpool.
Sean Dundee – 5 appearances
Did somebody say we should start off strong?
Widely considered to be one of, if not, the worst striker in Liverpool's illustrious history, Dundee had plenty of pedigree when he joined in the summer of 1998. South African born, Dundee was so highly rated in Germany that there was pressure put on him to take citizenship and play internationally. So, it wasn't outrageous for Houllier and Evans to pay £1.8 million for Dundee.
However, Dundee turned out to be completely horrendous in every way. Apparently, his attitude never helped and, even when he did appear, it was fleeting and terrible. He was one of the few things Houllier and Evans were in agreement on – Sean Dundee was trash.
Better yet, after snubbing South Africa for Germany, he never played internationally for the Germans.
David N'Gog – 94 appearances, 19 goals
Ever want a physical embodiment of how Liverpool went from Champions League semi-finalists to struggling to make it into the Champions League then look no further than David N'Gog.
The club went from relying on the goals of Fernando Torres to a big, gangly, slow, clumsy Frenchman who offered little and contributed even less. In about two and a half seasons, N'Gog contributed a lovely goal against Arsenal and that breakaway goal he just about got in against United. And that was it. Those were nearly a quarter of his league goals scored for the club. Seriously.
Thankfully, Kenny Dalglish saw some sense and near refused to play him ever once he took over.
Andriy Voronin – 40 appearances, 6 goals
He cost nothing. That's about the only positive memory I have Andriy Voronin.
For one season, the Ukrainian wandered onto the hallowed turf at Anfield and collected his appearance fee. His game was based on footballing intelligence but, sadly, the Premier League has never been the most intelligent league at times and Voronin suffered badly.
Rafa realised the error of his ways after just a season thankfully.
Anthony Le Tallec – 32 appearances, 1 goals
It may be a tad harsh to class Le Tallec as a striker but, honestly, does anyone know exactly what he did?
He arrived from Le Havre with a massive reputation and flopped miserably. He scored one goal for Liverpool and the only thing he's ever remembered for is that assist against Juventus in the Champions League.
Now, in fairness to Le Tallec, he was just a young lad having to adapt to playing for Liverpool. However, even young lads show some promising signs from time to time.
Iago Aspas – 15 appearances, 1 goal
The master of corners.
Yes, that is about the only thing Iago Aspas is ever remembered for in Liverpool. It's a perfect summation of his Liverpool career as well – try really hard but mess it up.
He did score against Oldham but once Luis Suarez returned from suspension, Aspas' struggles in the first team were as good as done. He's a great player but he didn't fit at Liverpool.
Andy Carroll – 58 appearances, 11 goals
Incredibly, the £35 million man scored fewer goals than David N'Gog did. What makes it worse is big Andy scored a third of his league goals in one game against Manchester City.
It was a doomed project from the start. Liverpool needed another striker to save them from more N'Gog misery when Torres left and the one they could get their hands on the quickest was Carroll. It wasn't like nobody tried to make it work but a combination of injuries, luck and differing styles meant he always felt like an Andy Carroll shaped peg in a round hole.
Despite his best efforts, Andy Carroll represents probably the club's greatest transfer faux-pas in recent memory.
Fabio Borini – 38 appearances, 3 goals
£12 million. Brendan Rodgers' first major splash as Liverpool manager. Does somebody want to look up the meaning of foreboding?
Fabio Borini was the expensive Iago Aspas. Sure, he struggled with injuries but he also ran around a lot and did very little else. It became very apparent almost instantly that Borini wasn't fit to lead the line for Liverpool or worth anywhere near the £12 million that Rodgers paid.
The fact that he was a key man for Sunderland the following season probably says everything it needs to about how good Borini is. At least we got £10 million back for him.
Those are the nominations so get to voting in the poll embedded down below. Of course, if you think that we've left out anyone glaring then give us (polite) grief on Twitter.