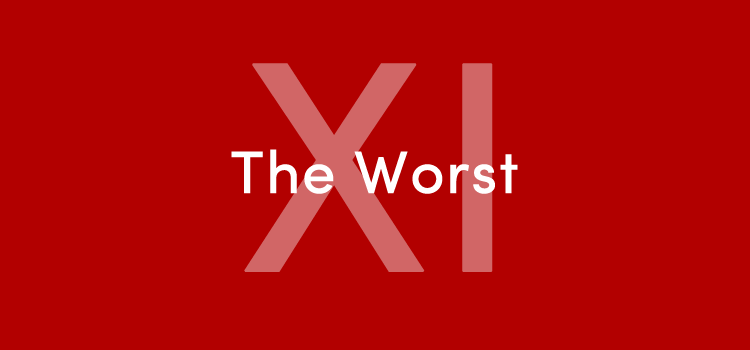 OK, I lied. You got me. I may have said that last week's Worst XI was the final nomination piece. Well, I can confirm that this one really is the final voting one before we reveal the winning losers.
You see, we need someone to lead this team to disaster. We need a manager that knows what it means to embarrass Liverpool both at home and away. Someone that wouldn't be fit to lead toddlers into a five-a-side match never mind professional footballers to success.
Let's meet our nominees…
Phil Taylor – 150 games, 50.7% wins
Nope, not the darts player but the man that will go down in history as the only manager to have never managed Liverpool in the top flight.
Taking over in 1956 from Don Welsh, who had led the club down into the second tier two years earlier, Taylor led Liverpool to third and fourth early on. A former star player for the Reds and club captain, he found the step to management extremely difficult and, by all accounts, he was a little too nice to really be successful in the dugout.
By 1959, patience was wearing thin and after a Cup defeat to non-league Worcester City and a stuttering league campaign, Taylor was relieved of his position in the dugout. The man who succeeded him? Bill Shankly.
Graeme Souness – 157 games, 42% wins
Yes, Souness won a cup and yes, he was a legendary figure at the club. However, his managerial stint in the early 1990s was one of the more dire periods in the club's history.
When Kenny Dalglish finally couldn't take the stress of the job in early 1991, the board went and got Souness who was enjoying unparalleled success up north with Rangers. He was only too happy to take the role as well and the fans were hoping for the good times to keep on rolling.
They did not. Faced with an ageing squad, Souness charged into the role like the proverbial bull in the shop full of crockery. He reportedly ran the players hard in pre-season contributing to a ludicrous injury list. His replacements for the ageing stars ranged from the disappointing (Saunders, Clough) to the downright atrocious (Kozma, Kozma and Kozma).
He may have won the FA Cup in 1992 but that came soon after he had triple bypass surgery, a story he then sold to The Sun on the anniversary of Hillsbrough. By the time Liverpool were knocked out of the FA Cup by Bristol City at Anfield in 1994, the fans and Souness had had enough and he resigned not long after.
Roy Hodgson – 31 games, 41.9% wins
I try my best to stay impartial during these so as not to sway the votes in any way but I really can't with this one. Roy Hodgson will probably win this vote comfortably. And deservedly so.
There's a small caveat to be had with this one. Liverpool at the time of Hodgson's appointment were a total shambles. With banks circling looking for money the cowboy owners Hicks and Gillett didn't have and Rafa just walking out because he couldn't be bothered dealing with them anymore; things were looking bleak in 2010.
Furthermore, Liverpool were struggling to keep their big names. Xabi Alonso had already gone, Javier Mascherano was looking elsewhere for his future and Fernando Torres was both injured and frustrated. Still, Hodgson had previous for solidifying and stabilising clubs in the past so was seen as a decent choice.
How wrong we were. His signings that summer were nearly all completely horrible (Raul Meireles aside) with Konchesky and Poulsen particularly horrid. The football was turgid at best and by mid-October the club was already in the relegation zone having lost at home to Blackpool and Blackburn and at Everton in the tamest manner possible as well as being dumped out of the League Cup by Northampton Town.
New owners took over not long after and while results did improve a little, a home defeat to a Wolves side playing a full back up front practically sealed Hodgson's fate. He was canned in early January and replaced by Kenny Dalglish.
Those are the nominees then. You can vote in the poll below and if you think anyone else has a case to be made for inclusion then let us @friendsoflfc.