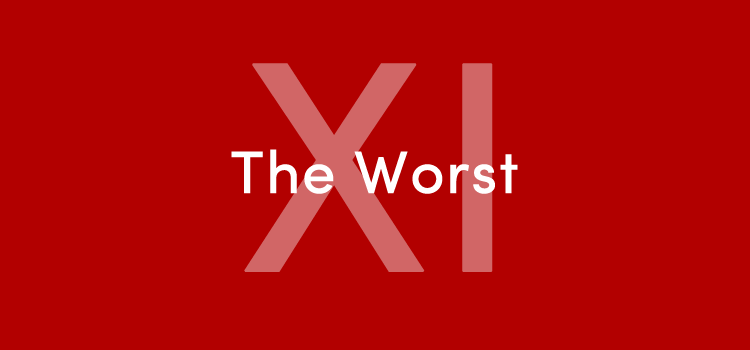 Another Monday arrives meaning that once again we delve into the darker, sadder part of Liverpool's history to decide on the Worst XI.
Our penultimate decision for you to make is who should play in the heart of this atrocious midfield. There are some properly, properly cringe-inducing players in here and, personally, I think this may be the hardest decision you have to make yet.
Shall we meet our nominees this week? Let's do it…
Istvan Kozma – 10 appearances
Graeme Souness is an example of what a great central midfielder should be. Fearless, dominant and an excellent player to boot.
Unfortunately, Souness the manager decided that the best central midfielder he could buy in 1992 was a Hungarian named Istvan Kozma who played for Dunfermline.
Unsurprisingly, Kozma was not very good. In fact, he was flat out garbage. He had one good game out of ten and that was against fourth tier Chesterfield in the cup. He played so little that he couldn't get a new work permit and had to leave the country anyway.
Salif Diao – 61 appearances, 3 goals
Ugh. Liverpool signed two Senegalese players after the World Cup in 2002 and both were unmitigated disasters. Salif Diao was compared to Patrick Vieira but the only comparison you can actually make is that they both played in France at some point in their career.
Gerard Houllier was convinced Diao was the man Liverpool needed. The rest of the squad? Nope. Steven Gerrard knew Diao wasn't good enough after a week and Jamie Carragher once tried to convince him to join Everton to weaken our greatest rivals.
And I'm not even going to talk about the times he was played at centre back.
Christian Poulsen – 21 appearances
Few players have angered me more in a Liverpool shirt than Christian Poulsen.
Signed by Roy Hodgson to replace the departing Javier Mascherano, Poulsen was an experienced international and had played at top sides around Europe. Sadly, he was also completely not cut out for the Premier League.
Having been used to the likes of Mascherano and Gerrard driving Liverpool on from midfield, I wasn't sure that Poulsen could even drive his own car. He struggled in the Europa League then plodded around in the Premier League, doing nothing and offering even less.
Joe Cole – 42 appearances, 5 goals
Joe Cole is a wonderfully talented footballer but for whatever reason, he never really fit in at Liverpool.
His signing was a big splash by Roy Hodgson, he'd signed a proven winner with pedigree and with years still to give. It was hoped Cole would add something special to the side.
Instead, his Liverpool career lurched from mishap to disaster. Sent off on his Premier League debut, missing penalties, then just sitting on the bench meant that, after just one season, he was sent packing off to France. When he returned from his loan Brendan Rodgers didn't really fancy him and he sent off to West Ham for absolutely nothing.
Jean-Michel Ferri – 2 appearances
When the co-manager debacle ended with Roy Evans leaving, Gerard Houllier finally had the chance to put his stamp on Liverpool. His first order of business – spend £1.5 million on Jean Michel Ferri.
Nicknamed "The Machine" for his incessant running, Ferri was supposed to add bite and energy in a midfield that already contained Paul Ince. So, it was no surprise that he promptly played a grand total of about 50 minutes for Liverpool. For those keen on maths, that's roughly £30,000 per anonymous minute of action.
Nuri Sahin – 12 appearances, 3 goals
His big move to Real Madrid had fallen flat but there was genuine excitement when Brendan Rodgers managed to snag Sahin on a loan deal in 2012.
Viewed as someone who could add that quality passing to midfield a la Xabi Alonso, Sahin started his Liverpool career well with three goals in a couple of games. The problems soon arrived though.
Clearly struggling with the pace of the Premier League, Sahin went missing in games, often shying away from the ball for fear of being clattered within seconds. He was promptly benched and, by January, he was back in Madrid to be loaned back to Borussia Dortmund.
Nuri then promptly complained about Liverpool, Rodgers and the Premier League when he returned home. Poor form.
Alberto Aquilani – 28 appearances, 2 goals
Rafa sold Alonso. Then he spent nearly £20 million on an injured Italian who couldn't play until November.
Poor Alberto never had a chance from the off and as Liverpool struggled through 2009/10, the Italian rarely troubled the starting eleven. When he did, he wasn't quite at the level of the man he was replacing. There was ability there but it struggled to shine in the Premier League.
Of course, he then promptly spent about forty years on loan back in Serie A before Fiorentina eventually decided to buy him permanently.
So, those are our nominees for central midfield. Get voting in the poll below and prepare yourselves for the final part next week where we delve into the murky past of Liverpool's strikers including a club record signing, a Bundesliga hitman and an ex-Bolton man.