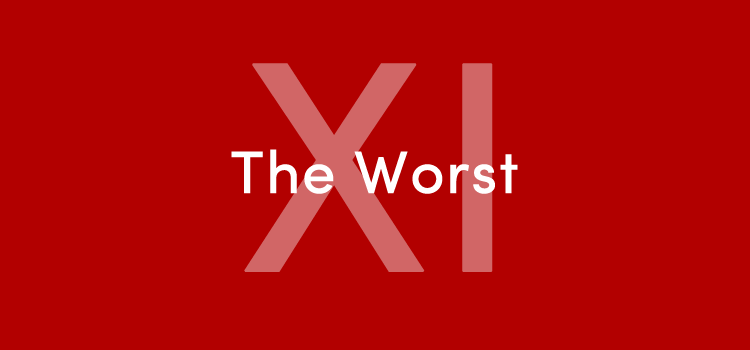 Welcome to the Friends of Liverpool Reader's Choice Worst XI Ever! That's FoLRCWXIE for short. You may be curious as to what is going on here so allow me to explain briefly.
In short, we want to find out the worst eleven players ever fielded by Liverpool Football Club. Each new post will focus on a number of candidates at one of six different areas of the team – goalkeeper, fullback, centre back, winger, central midfield and up front – whom you can vote for at the end. We're looking for the worst players here so choose the one you think was the absolute worst. You know, the ones that you've put to the back of your mind alongside your deepest, darkest traumas.
At the end of this long and, probably, harrowing journey back down memory lane, we will collate the votes and reveal just who is the worst team of Liverpool players you can put together as voted for by you.
Let's get started then with our nominees for the number one shirt.
Liverpool have had a number of legendary goalkeepers in the past – Pepe Reina, Bruce Grobbelaar, Ray Clemence – but amongst the list that have donned the goalkeeper's jersey at Anfield are some right old dodgy players. Contained within these nominees are those that were hilarious, those that were awful and one that is pretty despicable.
Pegguy Arphexad – 6 appearances
Oh Pegguy. After impressing Gerard Houllier as Leicester's number two, he was brought in on a Bosman in the summer of 2000 and promptly became a figure of fun.
Played just six times for Liverpool and was a member of the treble-winning season including playing the opening two rounds in the Worthington Cup. However, if you want a summation of Pegguy's Liverpool career then look no further than the fourth round tie at Stoke. An innocuous back pass saw Arphexad take a colossal touch, lose the ball before the Stoke striker hit the post when faced with the open goal. Jamie Carragher said he was "p***ing himself" when it happened.
Bonus points go to Pegguy for having to deny last year that he was a pornstar.
David James – 277 appearances
Controversy abound already. I can hear some screaming at the screen, "are you stupid?!" There are reasons for this nomination and, importantly, it's just a nomination.
I'll praise David James first – he had a great career and was one of the top English goalkeepers in the 2000s. However, he arrived as the next big goalkeeping talent in 1991 and is remembered more for everything he did wrong than anything he ever did right.
Sure, the Liverpool side of the 1980s had Bruce Grobbelaar, who was incredibly dodgy in his prime, but that side won things in spite of a momentary spill by the keeper. James was in the 90s Liverpool side that won little thanks to the keeper's errors (of which there were many). They didn't call him "Calamity James" for nothing.
Adam Bogdan – 6 appearances
A potential favourite here. Signed from Bolton on a free as competition for an out-of-form Simon Mignolet and perennial backup Brad Jones, Bogdan was gifted his chance by injury and form and boy oh boy did he ever blow it.
In six appearances, he conceded eight which, while not a terrible record, isn't great. Neither was his inability to catch a ball, save a shot or command the penalty area. He may have been good at Bolton but he was hopeless in a red shirt.
He even managed to look uncomfortably out of his depth at League Two Exeter in the cup which was pretty much the death knell for his Liverpool career.
Charles Itandje – 7 appearances
Imagine Bogdan but a little bit more erratic and you get a picture of Charles Itandje. Sure, he's carved out a creditable career in Turkey and at international level with Cameroon but at Liverpool, he was awful.
He was clearly signed as backup to the irreplaceable (at the time) Pepe Reina but he did manage seven cup games including the humiliation at home by Barnsley in the FA Cup. So poor was Charles that Rafa Benitez had to go out and sign a new backup after just a season.
Then Charles decided it would be a great idea to laugh and try and joke around with a visibly embarrassed Damien Plessis at the Hillsborough memorial in 2009. Cue much anger, venom and a small party when he left in 2010.
So, those are your nominations. Vote for the one you think was the worst in the poll below and keep your eyes peeled for the next positions and the final team in the near future.
A new series starts today, putting together #LFC's Worst XI – first up, goalkeepers! Vote below⬇️

— Friends of Liverpool (@friendsoflfc) April 10, 2017