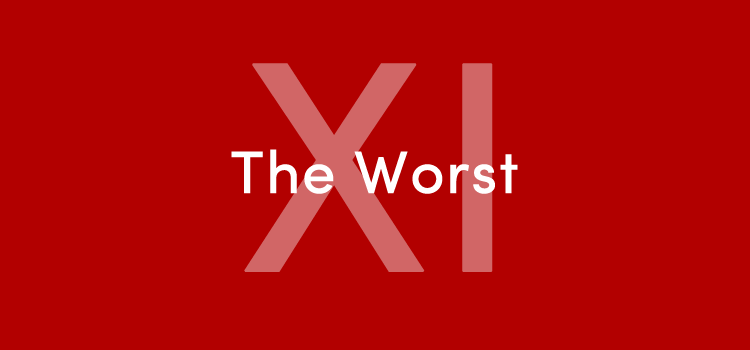 A new week has dawned and that means we need to decide the next position for the Friends of Liverpool Reader's Choice Worst Liverpool XI Ever.
This week we're rounding out the defence with the centre backs, and there are some real shockers in here. For every Jamie Carragher, Alan Hansen, Emlyn Hughes and Sami Hyypia there have been players like the ones nominated below.
So, just who could marshal our backline of awfulness? Take a look…
Torben Piechnik – 24 appearances
Liverpool's record with Danish players has been spotty at best. Torben Piechnik falls under the "oh dear" category. Using the tried and tested method of scouting at the Euros in 1992, Graeme Souness decided that it would be wise to spend £500,000 on the big lad at the heart of Denmark's defence.
In fairness to Piechnik, the move was bound to be a disaster from the get go. Denmark sat deep, meaning that he was never going to get caught out and could focus on marking people out of games. Liverpool did not sit deep and one of the final straws was when ex-Red Dean Saunders tore poor Torben apart. He was gone less than two years after his arrival.
Mauricio Pellegrino – 13 appearances
Rafa Benitez's first season was a bit of a mixed bag. European glory was mixed with domestic inconsistency and, by January, Rafa had decided he needed someone he could trust to add some grit and experience.
That man was Mauricio Pellegrino, a rock at the heart of Rafa's Valencia side of the early 2000s. Sadly, Mauricio was 33 and had the turning circle of a rock. He was mostly excited by the Beatles and was so clumsy and slow that Rafa just let him leave after six months.
Tiago Ilori – 3 appearances
£7 million. Three appearances. Two of those against Exeter. None of those in the Premier League. Welcome to the Tiago Ilori story.
It probably says a lot about Brendan Rodgers' recruitment at Liverpool that Ilori was such a miserable failure. When he did play, he looked like he had some ability but it was clear that he was not a Premier League centre back for Liverpool at all. It also maybe says more about him that he only played because it was either him or some 12-year-olds at the time.
Frode Kippe – 2 appearances
Remember how I said Pellegrino was slow and cumbersome. Frode Kippe was even slower than Pellegrino.
A big Norwegian defender, he cost an eye-watering £700,000 from Lillestrom and was Gerard Houllier's second signing as Liverpool manager. The issue was that he had just spurged his money on somebody who wasn't up to scratch and really only found regular time at Stoke.
Those are your nominees so get to voting in the poll down below. You have until next week's position to get your votes in.
Next time we go winger crazy featuring South Americans, one of the best players in the world according to Neighbours and a World Cup winner.