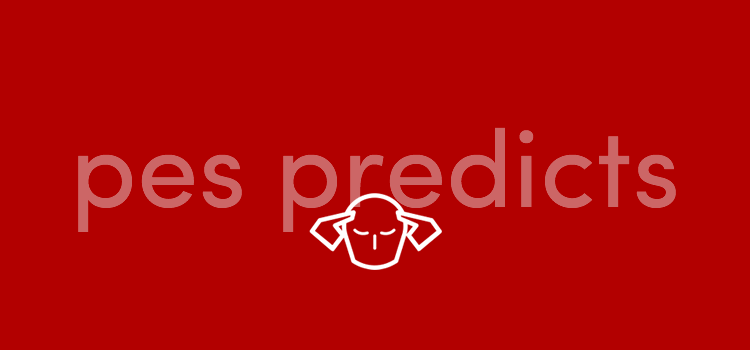 Welcome to the latest edition of PES Predicts, using Pro Evolution Soccer to predict the upcoming fixtures. It has to be said, the game has a great record so far, but how will it do predicting Leicester vs Liverpool?
I'm nervous about this one, as Leicester are manager-less and it either means their players will flourish having had that nasty Ranieri removed from his post after making a bunch of average footballers title winners, or more realistically they'll be shown to be the cloggers and WKD vagrants that most of them are. Who knows?
Well, hopefully PES knows. I had a bit of difficulty picking the line-ups, particularly for Leicester given their change of manager, but who really knows. If there was a way to make the home crowd hostile, I'd do it. Fortunately, those annoying clapper things aren't an in game option. Either way, welcome to Monday Night Football…with Peter Drury and Jim Beglin.
Leicester kick us underway and Beglin says he thinks Coutinho will be the difference today. A bold prediction. Lucas wipes out Ndidi inside 4 minutes, but escapes a booking. Mahrez wastes the free kick. Maybe Mahrez has heard Beglin's views and thinks the best way to deal with Coutinho is to kick him? The Algerian wipes out Coutinho and gets a yellow card. The free kick on half way is pumped in, not very Klopp like, but it falls for Henderson, who hits a curling effort that is well palmed out by Schmeichel…but it falls to Sadio Mane, and it's 0-1. That Leicester crowd is going to be foaming. Ranieri in!
Leicester have no answer to anything. Coutinho goes for a wander, under no pressure, and curls a shot wide from 25 yards. Lallana is in the book now, he's late on Fuchs. Filthy game so far, 17 minutes in. Liverpool are playing lovely stuff when they get forward, Coutinho has another chance but he shoots well wide. Schmeichel is livid, now that I can believe. Here comes Leicester, Simpson and Mahrez combining, but the low cross is knocked wide by Okazaki! Great chance, and a good move.
Leicester have a corner on 42 minutes, which Mignolet slaps away. Simpson tries to give it back to Mahrez but he overclubs it. He's terrible. But a league winner nevertheless. That's half time, Liverpool lead 1-0. Beglin thinks Leicester lack desire and he wouldn't be surprised to see a change. Time will tell.
Second half is underway, and Liverpool are controlling the play, a Milner cross is well dealt with by the big Dane. But oh my, Leicester are level. It's an important goal, ruined by Drury screaming "JAMIE VARDY IS HAVING A PARTY!" As if they recorded that line. Anyway, the goal. Albrighton went down the left, put in a low cross and Vardy swept it into the far corner from about 12 yards on his left foot. Wonders never cease.
Leicester are rampant now and they have a free kick on the edge of the box after Lallana is harshly penalised for jumping into Vardy. Mahrez hits his free kick straight into the wall, and on the rebound he attempts a bicycle kick but it goes many yards wide. Liverpool need a response here but they can't get on the ball at all. Albrighton has a headed chance but he glances it wide from all of 6 yards. Milner goes into the book for a foul in the build up.
We're inside the final 10 and it's gone a bit scrappy. Okazaki tries one with the outside of his left which is ambitious in the extreme. Gray is on for Mahrez. Origi came on for Coutinho at some point too, I must have missed that. Oh now here's Andy King for Okazaki. Subs for all. Late chance as Gray is played in, but his shot is terrible and Mignolet shovels it behind. We've played the three added minutes, the corner is terrible and Mignolet catches it. 1-1, let's all go home.
Beglin says Liverpool will be a "little irked." I suspect you are right Jim. It's a point that doesn't help either team really, Leicester still deep in trouble and Liverpool losing more ground on Chelsea and Tottenham. But hey, this is only PES. It might be a different game!
PES Predicts: 1-1